Kansas University's Sasha Kaun started as usual, but did not score and had just a rebound in six-foul plagued minutes in the first half.
So coach Bill Self made the decision to go with Darrell Arthur at center to open the second half.
"What was my motivation? He wasn't playing very well," Self said after watching Kaun erupt for 10 points and eight boards in nine minutes after intermission.
"He was not going after balls. I thought it'd be good for him to sit there. I thought he played as well as anybody the final half."
Kaun said Self spoke to him at halftime. "I was horrible," Kaun said. "He said, 'We need you to play. We need you to step up and make plays.'''
He didn't mind sitting out. "Whatever coach thinks is best to help the team," said Kaun, who had a vicious dunk off a lob from Russell Robinson.
"It was a heck of a pass," Kaun said. "One of the coaches said I should scream for Russell every time."
¢Still friends: Brandon Rush and Julian Wright appeared to have words on the court after a Rush miss in the second half.
"We weren't mad at each other," Rush said. "Julian said I took a shot when there was nobody there to rebound. Nobody was mad. It's just basketball."
¢Faces in crowd: Former KU player Mark Randall, who works for the Denver Nuggets, attended after speaking to a KU alumni gathering.
Photo Gallery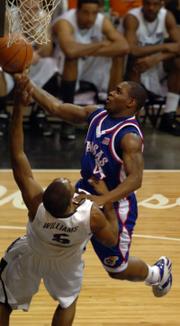 KU vs. Colorado
¢Stats, facts: KU's bench outscored Colorado's bench, 28-21, to mark the 16th time in the last 18 games Kansas' bench has outscored its opponent's. : Kansas outshot Colorado 47.6 to 27.3 percent to mark the 22nd time the Jayhawks have shot better than their opponents this season. The Buffaloes' 27.3 field-goal percentage was a KU opponent season low and the Buffs' lowest mark since hitting 29.9 percent against KU in 2005. : Kaun's four blocks tied his career high, and his nine rebounds marked a season best. His 10 points were the most since he had 13 at Iowa State on Jan. 13.
¢KU a big draw: KU has been responsible for seven of the top 10 crowds in Coors Events Center history and 13 of the top 25. The building, which opened in 1979, seats 11,064.
Wednesday's game drew just 6,608 fans because of a snowstorm. CU officials had announced Tuesday just 500 tickets remained for the game.
CU had averaged 2,345 fans in 12 home dates this season entering the KU-CU tussle.
¢Aldrich nets defensive honor: KU signee Cole Aldrich, a 6-foot-11, 240-pound center from Bloomington, Minn.'s Jefferson High, has been named St. Paul Pioneer Press defensive player of the year for the third straight year.
Aldrich, who has a 7-foot-5 wingspan, has averaged four blocks a game over his four-year high school career.
Copyright 2018 The Lawrence Journal-World. All rights reserved. This material may not be published, broadcast, rewritten or redistributed. We strive to uphold our values for every story published.