After looking sluggish during back-to-back losses, Lawrence High girls basketball coach Kristin Mallory said her Lions had "lost some of their mojo."
During Tuesday night's emphatic 61-24 home victory against Olathe North, LHS regained some of that momentum.
"We definitely got our groove back," Danielle Bird said.
LHS (11-6), featuring more talented players than North (1-15), forced 22 turnovers, which allowed the Lions to run their high-tempo offense to their liking.
"We did a better job pressuring the ball and getting in some passing lanes," Mallory said.
Mallory emphasized a faster pace during an intense week of practice. And the Lions used a trapping, pressure defense and transition offense to start the game with an 11-0 run and outscore East 22-3 in the third quarter.
Sophomore Taylor Bird scored 19, and senior Katelyn Hobbs posted 10. Danielle Bird, who had struggled of late, hit three three-pointers en route to 17 points. Her points came in the flow of the game, and she effectively squared her feet before each shot.
"I was very pleased with Dan," Mallory said. "In the first half, she was all we had going."
Despite the margin of victory, Mallory lamented her team's offensive play. In a very sloppy game, both teams combined for six turnovers in the opening two minutes. The Lions also failed to put in several balls around the hoop.
"We still didn't play as well as we could offensively," Mallory said. "We weren't in the flow for some reason. In the first half, we missed so many easy baskets."
With school canceled because of inclement weather, the "Jungle" crowd was sparse and much quieter than usual. The Lions, though, did have one notable fan. Kansas University women's basketball coach attended the game to support her friend, Mallory. And the KU coach saw LHS capture a much-needed win.
Photo Gallery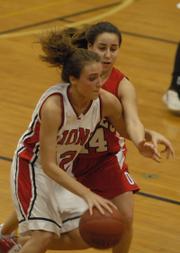 LHS basketball vs. Olathe North
"(I) definitely feel a lot better than after those two losses," Danielle Bird said.
Lawrence High boys 45, Olathe North boys 40
With school canceled because of snow, some of the LHS players did not know the status of Tuesday's game until the afternoon. Combine that uncertainty with the Lions' coming off back-to-back impressive wins and facing a challenging opponent on Friday, and it equaled a sluggish performance.
"We were flat," said Nathan Padia, who scored 11 points.
LHS coach Chris Davis, however, praised the win, considering the circumstances of the game and his team's ability to limit Olathe North to just 10 points in each quarter.
"We played pretty well," he said. "We didn't shoot as well as I'd like to see us shoot, but defensively we made it difficult on them."
Most impressively LHS (12-5) controlled the tempo against an athletic North team, which likes to push the ball.
"We needed to kind of slow it down," Padia said, "and try and run our game and get them out of their rhythm."
LHS forced North (8-8) into a slow-down game, but the Eagles received a strong performance from DeMarkis Dobbins, who scored a game-high 23 points, including five three-point shots.
"He was real quick," Padia said. "He was just finding the open holes, and he was hitting shots."
Dobbins closed the third quarter with a buzzer-beating three-point shot to tie the game at 30. The Lions, however, pulled away in the fourth quarter.
With two minutes left, Padia scored on an old-fashioned three-pint play to give the Lions a comfortable 43-36 margin.
"It was a momentum changer," Padia said. "There were two men down low. I just tried to drive and draw the foul."
The Lions did not resemble the squad, which drove past Sunflower League powers Shawnee Mission West and Olathe South during last Friday and Saturday night, respectively, but gained an important win before visiting Leavenworth, the seventh-ranked team in the KBCA rankings, Friday.
"There are a lot of reasons why we could've come out and not taken care of business," Davis said. "The fact we won is a big deal. I'm really happy with that."
Copyright 2018 The Lawrence Journal-World. All rights reserved. This material may not be published, broadcast, rewritten or redistributed. We strive to uphold our values for every story published.