Tuesday's Free State girls basketball game represented a bittersweet atmosphere for Allie Hock.
The senior guard, who typically comes off the bench, started against Shawnee Mission North because it was Senior Night. Hock made the most of the opportunity with 14 points in Free State's 56-39 home victory.
As a sophomore, Hock said she saw the talent Free State would have this season.
"When we got here, we knew we were going to be the class - the main, strong class to lead Free State," Hock said. "We set our goal our sophomore year that we wanted to be the team to go to state, be the team to beat."
The Firebirds started five seniors - Hock, Lauren Kimball, Jenna Brantley, Kelsey Harrison and Jessica Scott - Tuesday night.
The quintet has a legitimate chance of accomplishing Hock's goal this season. Free State (12-5) has now won five straight games and has climbed to No. 7 in the latest Kansas Basketball Coaches Association Class 6A poll.
"The seniors have been the ones to put this program on the map the last three years," Free State coach Bryan Duncan said. "They were a lot of fun to watch and got after it on defense."
SM-North (5-12) looked frustrated running its offense. The Firebirds ran an effective three-quarter-court press, which was a big reason for their 21 forced turnovers.
"By winning tonight, it helps put us in position to get to play one more home game in the sub-state," Duncan said.
Free State is ranked third out of eight teams in its sub-state, behind Olathe South and Olathe East. If the Firebirds finish in the top four, they would play host to a first-round game.
Photo Gallery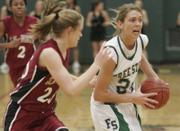 Free State vs. Shawnee Mission North
To do so, Free State will need continued production from Kimball and Brantley, who scored 15 and eight, respectively, Tuesday. Free State hit six three-pointers and committed only 12 turnovers.
"I think all of us were moving a little more without the ball, setting more screens, and we've tried to focus on more movement on the court," Kimball said. "That got a lot of people more open."
Free State will finish the season with a three-game road trip, starting Friday night at Shawnee Mission West (10-6).
"We want a challenge down the stretch," Duncan said. "Our goals are a lot bigger than just winning tonight. To be successful, we're going to need to be able to win big games on the road."
Free State boys 55, Shawnee Mission North 35
Free State might have won by 20, but the margin of victory didn't impress coach Chuck Law very much.
"Sometimes you have to win ugly, but that takes winning ugly to a ridiculous extreme," Law said. "We had no energy; we had no focus, and our overarching selfishness on this team really shined through in various stages of the game."
Free State (9-8) only scored 19 points in the first half - six in the second quarter. However, Shawnee Mission North (5-12) was just as anemic offensively, to the point where, at halftime, Free State led, 19-17.
"We didn't block out or go for loose balls," senior center Christian Ballard said. "We were acting like we didn't want to be there because of the snow day. Sometimes, you have to push through that minimal adversity."
Weston Wiebe essentially sealed the game with 4:50 left in the fourth quarter. The junior forward hit a pair of free throws, then stole the SM-North inbounds pass and scored his fourth point in about five seconds. The Firebirds took a 41-28 lead. Wiebe led Free State with 15 points.
Despite the aforementioned lack of Free State energy, senior guard Nick Devin was one of the few Firebirds diving on the floor. Devin was the primary reason Free State forced 22 SM-North turnovers.
"Nick Devin is going to be on the short list of my favorite players because he gives every single ounce of his fiber when he's on the court," Law said.
Free State dominated the second half with a 36-18 advantage.
"We just tried to take them out of their comfort zone and get them hurried up to make a couple bad passes," Devin said. "On defense, flying around is something you can always control."
Before the game, Free State recognized seniors Devin, Ballard, Kyle Schreiner and Jamar Reese.
Copyright 2018 The Lawrence Journal-World. All rights reserved. This material may not be published, broadcast, rewritten or redistributed. We strive to uphold our values for every story published.