Chase Torgerson recently broke the Sunflower League meet record for the 100-yard backstroke with a time of 53.62 seconds. The previous record of 54.40 seconds had been intact since 1998.
You can't really link Torgerson's accomplishment to a youthful dream of swimming with the best high school athletes in the state of Kansas, though. It's just wasn't on his radar - not even close.
"They threw me in the pool when I was 5 years old," the Free State High senior swimmer said. "It's actually ironic because I hated the pool when I was little. My mom literally forced me into the pool every time with swim lessons. I wouldn't even put my face in the water. Maybe because of that, I like backstroke better."
Talk to Torgerson for 30 minutes, and you'll immediately notice his respectfulness, leadership and intensity for the sport of swimming. He competed for Free State his freshman and sophomore years, but swam with the Lawrence Aquahawks year-round for his junior season. This winter, Torgerson decided to again swim for Free State.
How did you break the record at the Sunflower League meet?
A lot of hard work and some luck. I got excited. I don't go into every meet and ask, 'What's the record for this event?' But Mrs. (Annette) McDonald told me the record was at 54.40. Previously, I had been a 54.10, so I said, 'I could do that.' I had some pressure from a couple other swimmers, so that was a little bit more motivating. Once I swam it, you kind of know when you touch the wall. It was pretty exciting to look up and see the time.
You've actually swam the event at an even faster time - recording a school-record 53.29 seconds in the Topeka Invitational. Is that your best 100 time ever?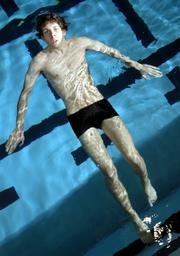 Technically. They had some timing issues at that meet. They say that was the official time, but I'm not sure. That's what we go off. I've never beat that time, though.
Time for you to give free lessons. What sort of technique goes into an effective backstroke?
For me, it's all rhythm. You need a strong kick as well as a quick tempo for sprinting events. And, obviously, a lot of practice.
You swam with the Aquahawks before competing for Free State. How long have you swum with the Aquahawks?
For about eight years. I was born in St. Louis and moved to Lawrence in 1998.
What went into your decision to get away from the year-round program of the Aquahawks and swim for Free State this season?
It's fun to swim for your school. It's fun to say, 'Hey, my name's on that record board.' And it's fun because a lot of my friends do it. It's fun to swim with all guys, too. Sometimes, swimming with a lot of girls can be a lot of drama. (Laughing). You need a break sometimes. Annette McDonald's been an awesome coach, and it's a really fun time.
What's the main difference swimming for FSHS and swimming for the Aquahawks?
The biggest difference is the amount of events you can swim. With the Aquahawks, because it's a year-around structure, you're able to do more. High school's a very short period of time, and you can only do so much in that amount of time.
Do you hope to swim in college? If so, where?
I do hope to swim in college. I've applied to many places, but I don't really know exactly where I want to go yet. I'd preferably like a bigger school. Unfortunately, I have to go outside of Kansas. It's not an option. Kansas (University) does not have a men's swimming program.
Copyright 2018 The Lawrence Journal-World. All rights reserved. This material may not be published, broadcast, rewritten or redistributed. We strive to uphold our values for every story published.