Lead pellets don't have to be fired from a shotgun to kill birds.
During the past six weeks, two bald eagles and a goose died from lead poisoning despite treatment at Operation WildLife, a rehabilitative center near Linwood for injured or orphaned animals. The birds had ingested pieces of lead.
Now, another bald eagle at the center is fighting for its life because of two pieces of lead found in its digestive system, director Diane Johnson said.
"Right now is a critical time for him," Johnson said. "The prognosis is very guarded, and he could go either way at any time."
The eagle most likely ingested the lead after eating waterfowl that also had swallowed the lead or had been shot and killed with a lead-loaded shotgun shell, said Aaron Henrichs, an officer with the Kansas Department of Wildlife and Parks.
Henrichs and another KDWP officer picked up the eagle on Saturday. A Topeka couple called Henrichs after noticing the eagle had been sitting in one place for several hours. It was on ice in the Kansas River near the Shawnee-Douglas county line.
"It was blind, so it could never really see us," Henrichs said.
The eagle was taken to Operation Wildlife where X-rays revealed lead pieces in its digestive system.
Eagles and other birds often fall victim to an environmental problem that has built up over decades when hunters used mostly lead pellets in their shotgun shells. In the early 1990s, federal law prohibited lead from being used to hunt migratory birds such as ducks. Pellets now have to be made of nontoxic steel. But lead still can be used to hunt upland birds, such as quail and pheasant.
Eagles are migratory birds, but they are protected under federal law and cannot be shot at all.
Photo Gallery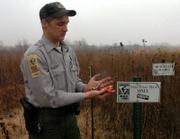 Ailing Eagles
Lead also can be used in target shooting. And some gun enthusiasts are prone to shooting at other objects along the river, Henrichs said.
KDWP officers check hunters to make sure they are carrying legal shells. The standard fine for illegally shooting with lead is $75, but it could be less if someone sways a judge with a plea in court.
"I guess the frustrating thing for me would be just people who are down on the riverbed carelessly shooting trap or bottles or target shooting, and I don't have any control over that, and that can be just as big of a contributor to the problem as illegally hunting with lead," Henrichs said.
Bald eagles are a common sight along the river and at Clinton and Perry lakes. So are ducks, and they are especially susceptible to lead poisoning because they can scoop up pieces while seeking food in shallow wetlands, Henrichs and Johnson said. A duck then gets sick, and an eagle picks it off as an easy food target.
The 8-pound male eagle brought in by Henrichs is now eating, and Johnson hopes it will throw up the lead pieces. It also is being given medication to take out the lead in its blood. On Monday, the bird's vision had improved, she said.
If the eagle survives, it may still have permanent physical damage, Johnson said.
"We'll have to assess it for damage," she said. "We'll make sure it can fly, catch and kill things. We want to see this bird back in the wild."
Copyright 2018 The Lawrence Journal-World. All rights reserved. This material may not be published, broadcast, rewritten or redistributed. We strive to uphold our values for every story published.