A reporter who hadn't followed Kansas University's basketball team closely this season asked Bill Self if he was worried about a lack of balanced scoring in Saturday's 92-74 victory over Missouri in Columbia, Mo.
"Actually, that's the best thing that's happened to our team because the whole year we've had everybody score 10," KU coach Self said after Julian Wright and Brandon Rush combined for 54 points.
"It doesn't bother me if two guys score 54. It'll give them a lot of confidence they can maybe score in bunches in the future."
Self, who has been in search of some breakout individual scoring performances that might help identify a "go-to guy" in the future, shrugged when asked if he could recall Wright (33 points) and Rush (21) having both played so well on the same day.
They also combined for 19 of KU's 40 rebounds.
"That's a good question," he said of the Big 12 Conference co-preseason players of the year. "I know those two allow us to be a pretty good team potentially because we know their ceiling is pretty high when they play."
A check of the box scores show the two have both been "on" offensively more than once this season.
The two combined for 42 points (Wright 23, Rush 19) in an 80-69 home win over Rhode Island; 37 points (Rush 20, Wright 17) in a 76-56 win at Nebraska; 37 points (Rush 21, Wright 16) in a 91-57 home win over Northern Arizona; 34 points (Rush 18, Wright 16) in a 82-56 victory at Baylor.
Self said he knew exactly why Wright shattered his old career-high scoring mark of 23 versus Rhode Island.
"He was on the glass," Self said of the 6-foot-8 Wright, who had 12 rebounds, eight offensive. "He finished strong around the rim, making most of his baskets inside three to four feet. He made some great passes too. One play he made on an offensive rebound, tipped it to himself, somehow got the ball to Darnell (Jackson) for a layup. He made some big-time plays."
Wright hit 14 of 21 shots as well as five of seven free throws. Rush hit eight of 10 shots (three of three from beyond the arc) and two of two free throws.
"Any time a guard can go eight of 10, three of three from three and get seven boards ... he was fabulous," Self said of Rush.
Wright said he was pleased to have a big game the same night at Rush.
"I always have confidence in him. We have confidence in each other," Wright said. "He's being aggressive, taking shots when he's open, attacking the basket and being strong. Sometimes he thinks he takes too many shots. We want him to shoot even if he misses one. We tell him to shoot the next one."
The Tigers were impressed with KU's high-scoring duo.
"It was like we were scared to guard them or something, just letting Julian Wright and Brandon Rush just go everywhere, rebound, catch alley-oops, do everything they wanted," guard Keon Lawrence said.
Two other Jayhawks joined Rush and Wright in double-figure scoring on Saturday. Sherron Collins scored 14 points and Darnell Jackson 10. Jackson hit four of four shots, two of two free throws with six boards on a night Sasha Kaun had foul problems and played just eight minutes.
"It worked out well for us. This was a good game for Darnell," Self said of a fast-paced game. "He is our best perimeter catcher and passer. Don't read into that (Jackson playing 20 minutes to Kaun's eight) except guys got in foul trouble."
Photo Gallery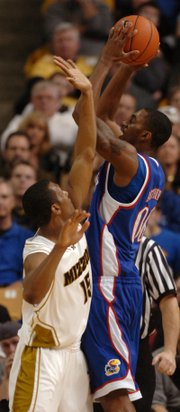 KU vs Missouri
¢Yes, Tigers pressed: It wasn't a good day for the media on Saturday. Another reporter asked Self if he was surprised Missouri didn't employ its "40 minutes of hell" game plan in a pair of losses to KU this season.
MU actually pressed a lot Saturday in Mizzou Arena.
"They didn't (press) at our place," Self said of KU's 80-77 victory on Jan. 15 in Allen. "Here I thought they pressed us pretty much the entire game. We were working to get the ball in bounds pretty much the entire night. They came after us the way we thought they would."
¢High praise: Columbia Tribune sports editor Joe Walljasper praised the Jayhawks in his column on the game.
"Round about the fifth Kansas alley-oop, it became clear that for this edition of the Border War basketball game, the Missouri Tigers were simply props. MU's interchangeable characters just as easily could have been orange barrels for the mild inconvenience they were causing Jayhawks accelerating to the basket.
"When KU's long, tall Wrights and Rushes put their minds to winning a basketball game, there's nobody in an MU uniform who is capable of doing much about it," he wrote.
¢Next up: KU will next meet Colorado at 8 p.m. Wednesday in Boulder. The Buffs fell to Kansas State, 78-59, on Saturday in Manhattan and fell to 6-14 overall, 2-8 in the Big 12. Richard Roby, who had 30 points in CU's 97-74 loss to the Jayhawks on Jan. 27 in Allen Fieldhouse, had just five points on 1-of-9 shooting versus the 'Cats.
Copyright 2018 The Lawrence Journal-World. All rights reserved. This material may not be published, broadcast, rewritten or redistributed. We strive to uphold our values for every story published.