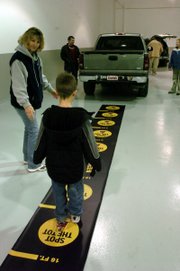 A local group aimed at inspiring and strengthening leadership in Lawrence is working to create a smaller version of itself.
Recent Leadership Lawrence graduates have developed a new program called the PIECE Project, hoping to get young people more involved in the community.
PIECE - an acronym for Peer Involvement Enhancing Community Efforts - will be the youth version of Leadership Lawrence, a Lawrence Chamber of Commerce group that trains and encourages adults to get involved in the community.
Project co-chairman Jeff Novorr says the group is targeting eighth-grade students attending public and private schools in the city.
"Hopefully, for kids, what they'll get out of this is a better understanding of what really makes Lawrence work, getting into kind of the behind-the-scenes aspects of the schools and of athletic events and the arts events," said Novorr, vice president/corporate compliance and privacy officer for Lawrence Memorial Hospital.
Students will apply this spring for an opportunity to participate in the program next year. The first class of about 15 students will meet once a month for an entire day.
"In addition to teaching them about Lawrence and about some of these critical things, there will be leadership skills that we'll teach them so that these are things that they can take and use in their school life and their everyday life," Novorr said.
Just as important, he said, they'll learn ways teenagers and young adults can really make a difference.
"Because it's not just adults or business people who can make an impact in the community. Everybody has a role, and we want to show these kids what their role is," he said.
A public informational meeting will take place at 7 p.m. Monday at Lawrence Public Library, 707 Vt. Attendees will learn about the program and how to apply as well as have an opportunity to ask questions and view the program's promotional video. The public is invited, and prospective class participants and their families are encouraged to attend.
School assemblies will take place at the following times to educate eligible students about the program and encourage them to complete applications: 1:45 p.m. Tuesday, Bishop Seabury Academy, 4120 Clinton Parkway; 2:45 p.m. Tuesday, Central Junior High, 1400 Mass.; 2:40 p.m. Thursday, Southwest Junior High, 2511 Inverness Drive; 2:40 p.m. Friday, West Junior High, 2700 Harvard Road; 2:30 p.m. Feb. 20, South Junior High, 2734 La.
Applications will be available at all of the schools, as well as at Sunflower Bank, 4831 Quail Crest Place, and the Lawrence Chamber of Commerce, 734 Vt.
Copyright 2018 The Lawrence Journal-World. All rights reserved. This material may not be published, broadcast, rewritten or redistributed. We strive to uphold our values for every story published.