Members of the 24th annual Leadership Lawrence class graduated Friday morning with their eyes on the future.
The 25 graduates - business owners and executives, school administrators and others already considered leaders in their own fields - celebrated the completion of their nine-month educational program with the announcement of two projects designed to improve life in Lawrence by focusing on the community's youth:
The Peer Involvement Enhancing Community Efforts (PIECE) Project, a program to recruit eighth-graders to enroll in a leadership program intended to help promote community involvement.
The E on E Project, or Elderly on E-mail, which partners students at Free State High School with residents at Brandon Woods Retirement Community, to teach them how to use and take advantage of e-mail capabilities ranging from sending simple messages to composing electronic greeting cards.
Such youth-oriented work represents the essence of true leadership, said Sue Hack, a Lawrence city commissioner who works for the Lawrence Chamber of Commerce as director of the Leadership Lawrence program.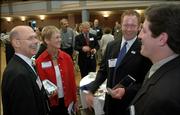 "They're the best natural resource we have, and we have to make sure they're taken care of," Hack said.
More than 200 people gathered in the ballroom at the Kansas Union for the chamber's annual Celebration of Leadership Breakfast, which also included presentations of three awards:
Ray Wilbur, a retired Lawrence High School math teacher who volunteers as an algebra teacher at Bishop Seabury Academy, received the Buford M. Watson Jr. Public Service Award.
Earl Reineman, vice president of Weaver's Department Store and chairman of the Leadership Lawrence Advisory Board, received the Wally Galluzzi Chamber Volunteer Award.
Lynne Green, executive director of Van Go Mobile Arts Inc., received the Don Volker Leadership Award.
Copyright 2018 The Lawrence Journal-World. All rights reserved. This material may not be published, broadcast, rewritten or redistributed. We strive to uphold our values for every story published.