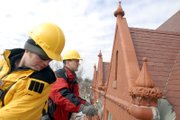 The roof on Watkins Community Museum of History is as unique as the many artifacts it shelters.
That means the cost to fix it won't be cheap.
The roof, which was seriously damaged during a hailstorm 10 months ago, is made of red slate tiles and dates back to the building's construction in 1888.
Repairs could cost more than $1 million with construction lasting into the summer, said John Coffman, an engineer with the Kansas City, Kan., office of CMR Construction.
He was among a group of engineers and an insurance adjuster who was assessing the roof's damage Thursday.
The Douglas County Historical Society, which operates the museum and owns the building, hired CMR to oversee the restoration efforts.
"There are only a handful of buildings in the United States that have a 100 percent red slate roof," Coffman said.
Red slate tile is so rare that only one quarry in the world produces it, he said, and it is the same one that produced the original tiles that went on the roof in 1888.
Red slate tiles are expected to last 150 years, he said.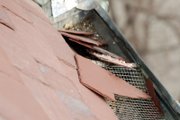 Once engineers determine how much of the roof needs to be repaired and insurance adjusters agree on a price, it could take up to five weeks for the slate to be produced from the quarry in Granville, N.Y. Coffman said it could take two months for workers to install the roof.
Rebecca Phipps, director of the museum, said she expected the insurance carrier, Allied Insurance, to cover all the costs.
Phipps said there was no major danger to the building, 1047 Mass, pending repair of the roof.
"We're fairly structurally sound," she said. "What we're most concerned about is a piece of slate breaking loose and falling on someone walking along the sidewalk."
The building, a former bank, has been owned by the Douglas County Historical Society since 1972 and has been home to the museum since 1975.
Watkins Community Museum of History
Copyright 2018 The Lawrence Journal-World. All rights reserved. This material may not be published, broadcast, rewritten or redistributed. We strive to uphold our values for every story published.