Wide receiver Nathan Padia headlined a Wednesday afternoon ceremony at Lawrence High by signing a national letter of intent with Lafayette College in Easton, Pa.
"We're excited," Lions coach Dirk Wedd said. "It's a good match. He's very strong academically, and I think he can play there. I like for kids to stay close by to watch them, but I think this is a great fit for him. I think it will open up a whole new group of contacts for him."
There were no surprises at Free State High's morning signing ceremony.
His left arm in a sling and his right arm holding the pen he used to sign a national letter of intent to play football for Kansas University, Free State High star quarterback Ryan Murphy revealed Wednesday morning he plans to red-shirt his first season.
Murphy, whose twin brother Brian also intends to play football at KU, is coming off surgery to repair a separated left shoulder.
"At first they told me to expect to come in and play right away," Ryan Murphy said. "But after having the surgery, I can't start lifting weights until July, and I'm not supposed to start full contact until August, so I'm probably going to have to red-shirt the first year."
Brian Murphy will not be on scholarship the first year, but has a chance to earn a scholarship after that. A running back in high school, Brian projects as a return man in college.
Ryan said he was recruited as a wide receiver. He also has the makings of a Big 12 defensive back.
"Playing safety, coming up and putting a little pop on a running back when he's not expecting it, I love that," Ryan said. "I'd be cool with that if they switched me, but I'm excited to be staying on offense, playing receiver. I don't think that will be a hard transition at all. I like making plays."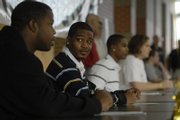 Teammate Christian Ballard, a rare blend of size and speed, also has potential at more than one position. Ballard originally made an oral commitment to KU, but after visiting the University of Iowa, he changed his mind. He signed with the Hawkeyes on Wednesday.
"I thought it was a better football decision for me to go to Iowa," said Ballard, who plans to be an art major. "They have a lot more players drafted. It's also a great academic school, and they have one of the best art programs up there and that's my major."
Mikel Ruder signed with Missouri State, a program headed by former Kansas coach Terry Allen.
"He's a great guy," Ruder said of Allen. "He's the one who really sold me on the school."
Recruited as a defensive end, Ruder had surgery one month ago today to repair a torn anterior cruciate ligament and torn meniscus in his right knee.
Lineman Kyle Weinmaster signed with Baker University, where he'll join his brother Philip.
Football players from both schools signed with community colleges. Free State's Neal Smith is headed to Highland CC.
Tony Williams and Chance Riley of LHS signed with Butler County CC, Paul Finch committed to Fort Scott CC and Arsenio Criss chose Highland.
Copyright 2018 The Lawrence Journal-World. All rights reserved. This material may not be published, broadcast, rewritten or redistributed. We strive to uphold our values for every story published.