With Kansas University's 97-70 victory Wednesday night, the Jayhawks pushed past Kansas State, taking over sole control of second place in the Big 12 conference.
But the game showed the Wildcats look up to the Jayhawks in more ways than the conference standings.
"They're bigger, they're faster, they're longer, they're better shooters," Kansas State coach Bob Huggins said. "They are very talented and very well coached. We've got to get to that point."
The disparity between the teams was most visible during the second half, when KU increased its 12-point lead to 27 on the merits of 60 percent shooting.
"We just came out flat," junior guard Blake Young said. "We didn't play with any energy."
The game began just as disastrously for the Wildcats, as the Jayhawks bolted to a 15-2 lead.
After nailing 14 three-point shots during a 73-72 victory against Texas, Kansas State shot 2-of-10 from long distance in the first half en route to a 4-for-22 performance.
"That wasn't by design," Huggins said.
Huggins, however, blamed the defense, which lacked the stifling pressure his Cincinnati teams earned a reputation for. KU connected from three-point range early, forcing Kansas State to abandon a zone for man-to-man defense.
The Jayhawks then effectively attacked the man with ball screens across the middle.
KU outrebounded Kansas State by 22. The Wildcats also played poor transition defense, allowing for 16 fast-break points.
Photo Gallery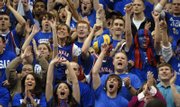 KU vs K-State
Senior guard Jermaine Maybank served as the bright spot for Kansas State. The 6-foot-4 backup led all scorers with 26 points, which surpassed his career high by 11.
"I tried to be the spark," Maybank said.
While Maybank provided support off the bench, 7-3 freshman center Jason Bennett made his ninth start.
He was reunited with KU's Sasha Kaun, against whom he played during high school basketball in Florida.
Bennett blocked three shots during his 11 minutes, but fouled out at the 7:20 mark of the second half.
Long after he fouled out, the KU student section regaled him with the taunt of "Bennett, Bennett!"
The freshman also heard it from Huggins on several occasions.
"Jason thought they jumped over his back," Huggins said. "I told him if he blocked out, they wouldn't. : Jason's got a lot to learn."
The 16,300 fans in Allen Fieldhouse taunted Bennett while providing the usual raucous environs. Huggins said that did not affect his team.
"I don't buy into that," he said. "They have a great atmosphere. It ought to be fun. We should've enjoyed it. We should've embraced it."
After Kansas emphatically halted Kansas State's seven-game winning streak, the Wildcats (17-7, 6-3) must regroup to capture a postseason berth.
Young revealed Huggins' postgame message.
"We've got seven games left," Young said. "Either you guys are going to lay it down, or you're gonna play the seven games hard and we make it to this tournament."
Copyright 2018 The Lawrence Journal-World. All rights reserved. This material may not be published, broadcast, rewritten or redistributed. We strive to uphold our values for every story published.