Photo Gallery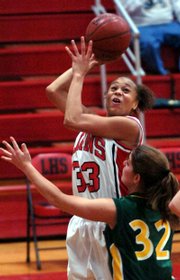 LHS vs. SM South
With a coolness belying his sophomore standing, Lawrence High guard Dorian Green sank a buzzer-beating jump shot to give the Lions a 45-43 home victory against Shawnee Mission South Tuesday night.
LHS coach Chris Davis, who called a timeout with nine seconds left, designed the play to go to sharpshooting Chance Riley off a double screen along the baseline. But South double-covered Riley, forcing Green to toss the ball to John Schneider, who kicked it back to Green with time ticking away.
"I had to get a shot to give us a chance," Green said.
Davis drew the play up for Riley for a reason. The senior led all scorers with 20 points and connected on several crucial plays down the stretch.
"Whenever we needed a big shot, he came and shot it," Green said. "He's one of our leaders, so we expect him to do that."
Riley nailed a basket to give the Lions a 42-40 lead with 1:14 left. He also scored the team's next point on a free throw. But the Raiders' Tim Bury, who had not played until Raiders coach Pat McCormack inserted him for that possession, countered with a three-point shot with 23 seconds left.
Green's smooth shot opposed much of the game's ugliness. Defensive intensity, trash talking and tight officiating resulted in 37 total fouls. John Novotny received an intentional foul in the second quarter for a hack on South's Will Spradling. The referees issued a technical foul on South's Keith Rodden in the second quarter, and the third quarter featured double technicals on Riley and South's Archie Pozek.
Davis, though, made sure his team remained poised.
"He told us to calm down and just play our game," Green said.
Along with two technicals, the third quarter featured a scare at the 4:03 mark. LHS senior Nathan Padia went up for a rebound but fell to the floor, clutching his knee.
"He just kind of landed funny," Davis said. "He twisted his knee a little bit."
After teammates helped walk him off the floor, Padia paced back and fourth on the sideline, prodding Davis to let him return.
"He was convincing me that he was okay," Davis said.
Padia, who scored four points, returned in the fourth quarter. The athletic, 6-foot-5 senior started the game, covering Spradling, a quick, freshman point guard. Rarely do freshmen point guards start for 6A team, but Spradling effectively ran an offense, which committed only three turnovers all game.
"He did really well," Davis said.
But LHS (9-5) had a precocious guard of its own who came up with the clutch shot of the night.
"I'm just happy it went in," Green said.
Shawnee Mission South girls 57, Lawrence High girls 53
The Lady Lions lacked the intensity Tuesday night they had displayed during its six-game win streak.
"They looked like they didn't have the heart to play today," LHS coach Kristin Mallory said. "They didn't want it."
The defensive effort in particular exasperated Mallory. She switched from man-to-man to two different kinds of zones, but nothing slowed South.
"They beat us up all night," Mallory said. "We were just bad defensively."
LHS employed a variety of defenders on South sophomore Jocelyn Cummings. But she had her way in the post, using back-to-the-basket moves to score a game-high 25 points.
"We couldn't stop her," Taylor Bird said.
LHS (10-5) also struggled offensively, committing 19 turnovers, including 13 in the first half.
"We had the fumbles early. A couple of the girls really had a hard time holding on to the ball," Mallory said. "They put a lot of pressure on us, but that's not good enough."
Taylor Bird served as the offensive bright spot, scoring 21 of the team's 53 points, including a three-point shot with 6:30 left to give the Lions their first lead since the first quarter.
"She's the only one that showed any heart throughout the entire game," Mallory said.
But both Taylor and Danielle Bird hurt the team by picking up four fouls a piece, and Taylor sat out much of the second quarter. After the game Bird said she and her sister needed "to be smarter."
Taylor led a 19-point surge to tie the game at the end of the third quarter, but the Lions still struggled defensively, the area which Mallory had stressed during her halftime talk.
"We got better offensively, but we still didn't stop anybody." Mallory said. "It was not pretty. I'm very frustrated, very angry."
Copyright 2017 The Lawrence Journal-World. All rights reserved. This material may not be published, broadcast, rewritten or redistributed. We strive to uphold our values for every story published.