Photo Gallery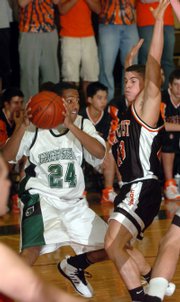 FSHS vs. SM Northwest
Lauren Kimball grabbed a rebound and landed awkwardly on an opposing player's foot, twisting her right ankle in the process. It didn't look good for Free State's senior floor general, as trainer Jeremy Goates had to help her to the locker room.
As halftime ended and players finished shooting around, Kimball half-jogged and half-limped onto the floor. We're not talking Willis Reed in the 1970 NBA finals, but Kimball put up quite the valiant effort Tuesday night at Free State's home gym.
Kimball's leadership helped Free State narrowly defeat Shawnee Mission Northwest, 36-33.
"That was a really big game for us," Kimball said. "I knew if I sat out that a lot of people were in foul trouble, so I had to take that leadership."
Senior guard Jenna Brantley fouled out, making Kimball's ball-handling presence even more important.
In fact, Kimball didn't see the bench at all in the second half. She insisted she was fine after the game and wouldn't miss any games.
"She was hobbling around most of the night," Free State coach Bryan Duncan said. "She really gutted it out. That's a senior leader. We needed this game tonight, and she knew that. She never complained about it."
The Firebirds' necessity for Kimball to start the second half was evident. The senior guard opened the half with a three-pointer from the left corner to give Free State an 18-11 lead. She led the Firebirds with nine points.
If you're scratching your head at the thought of an 18-11 score in the third quarter, welcome to SM Northwest's style of basketball.
"Frustrating - in a word," Duncan said. "They do a nice job of controlling the tempo, and it's really difficult to get them out of their comfort zone, no matter what you do."
The Cougars dictated the pace so much that the end of the first quarter could have qualified for a baseball score: Free State led, 10-4.
"They're incredibly slow," Kimball said. "They're not guard-oriented. However much you want to speed them up, it's really hard to do, just because whenever they get the ball, they're going to slow it down the whole time."
Becca Roberts created opportunities for SM Northwest from her presence in the paint. The senior forward went to the free-throw line 14 times. She converted only eight, though.
The game came down to the last possession, with Free State (10-5) ahead by three. SM Northwest (7-8) inbounded on the baseline and had to drive the length of the floor. The Cougars didn't even get a shot off, due to the active hands of senior guard Allie Hock.
"I knew No. 32 was looking for the shot," Hock said of SM Northwest's Katy Stitheim, who hit two threes earlier in the game. "They telegraphed the pass and I was just lucky enough to get my hand in there and not get a foul called or a jump ball. I gave a big sigh of relief afterwards."
Shawnee Mission Northwest 47, Free State boys 45
SM Northwest came back from a 10-point deficit at halftime to tie the game at 43. The Cougars still hadn't led all game.
With more than two minutes left in the game, SM-Northwest passed the ball around on offense and ran more than a minute off the clock. Senior center Christian Ballard fouled Adam Marrello, who hit two free throws and gave SM Northwest (10-6) a two-point lead.
"He would have held for one (final shot) if we allowed them to do so," Free State coach Chuck Law said of SM Northwest coach Ben Meseke. "We came out and guarded, and it was the right thing to do."
Junior guard Kris Wilson penetrated to the left side of the basket, got fouled, and answered SM Northwest with two free throws to tie the game at 45.
After a timeout, SM Northwest had 9.2 seconds left. Junior Scott Fruehling curled around a pick and converted a contested layup. The only lead the Cougars held was with exactly one second left. It won them the game.
Copyright 2018 The Lawrence Journal-World. All rights reserved. This material may not be published, broadcast, rewritten or redistributed. We strive to uphold our values for every story published.