Being "dead" for a day was a sobering experience for Erin Eifler, a Lawrence High School sophomore.
"I was watching what it would be like if I wasn't there," Eifler said Monday afternoon during the end of a schoolwide, anti-drunken driving project. "And it was scary."
Eifler was among 57 LHS students who pretended to be dead for the day, "killed" by a drunken driver.
Each volunteered for a project called "Every 29 Minutes," a reference to how often a person dies in an alcohol-related accident in the United States.
"A lot of the teachers have lost friends or family members to drunk drivers, and a lot of family members have, too," Eifler said. "There was a lot of conversations going on during classes, with people telling their stories. A lot of people were crying."
The day began with a knock at the classroom door by a police officer and a paramedic, who entered and announced that a student in that class had been killed.
The student then silently left the classroom, going off to a "morgue." A rose and tombstone explaining how the student died were placed on the student's desk.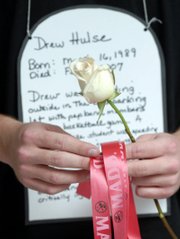 The student then returned to class from the morgue, wearing a black T-shirt. The student then remained silent all day as he or she attended classes, avoiding eye contact with friends and teachers.
The "tombstone" Eifler wore around her neck told how she had met her demise - a drunken driver was going the wrong way down Kentucky Street, a one-way street, and Eifler and her best friend tried to swerve out of the way.
"They were killed in a head-on collision, and the driver escaped without a scratch," Eifler's tombstone said.
The sophomore said there were some students who made light of the event and didn't take it seriously.
"But those are the people that are going around drinking and driving on the weekends," Eifler said.
Sadie Stringer, a senior, said she also experienced different reactions when she "died" during third hour.
"The most mature comment that I've gotten so far was just complete silence," she said.
The project, which was sponsored by the school's FYI Leadership Club, also included the "dead" students eating lunch silently together in a "cemetery" in the school cafeteria.
And at the end of the day, they formed a two-line gauntlet, where they handed out ribbons to other students.
The ribbons were to be tied onto the student car antennas or rearview mirrors as a symbol to remind them not to let a drunken person drive their vehicle, said Vanessa Rials, a senior and co-president of the FYI Leadership Club.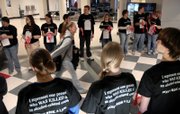 Rials, who participated as one of the dead students, said the experience was difficult.
"To not be able to talk, you feel, in a sense, lost, like you're not really there," she said.
It was also interesting to see how differently people react to her death, she said.
"Some won't even look at you," Rials said. "I actually had one girl hug me and told me it would be really sad if I was gone."
Diane Ash, LHS prevention specialist, said the program has been going on each year since 1993 and had more of an impact than just giving students information.
"It's a powerful statement of how thousands of people lose their lives every year due to drinking and driving," Ash said. "And we know it could be any of our kids."
Copyright 2018 The Lawrence Journal-World. All rights reserved. This material may not be published, broadcast, rewritten or redistributed. We strive to uphold our values for every story published.