On any given day, Lawrence High senior Jake Lorenzo's weight can fluctuate five pounds, depending on what he ate the day before. The 6-foot-2, 280- or 285-pounder, however, fills the role as the Lions' heavyweight wrestler.
"I'm not the baddest one, but it means I'm the biggest one," Lorenzo said. "We've got a lot of tough kids at the lighter weight classes."
During the fall season, Lorenzo started on the Lions' offensive line. He fractured his thumb during Lawrence High's last football game against Shawnee Mission West, forcing him to miss a month of wrestling season. But the senior has bounced back and hopes to lead the LHS wrestlers to a state title.
Is life as a heavyweight easier because you do not have to worry about cutting weight?
Not really, because I have to be able to keep my body in good enough shape where I can go as many rounds as I need to. If there's an overtime, I have to be able to go triple overtime. I have to condition hard and eat right. I don't eat a lot of junk food. I eat a lot of food, but I make sure what I eat is keeping me in shape. So I'm staying stronger and quicker. I try to stay away from McDonald's and stuff like that.
What's your go-to snack food?
I hit up the beef jerky pretty hard. Every meet I go to, I have like three pounds of that. It's gone pretty quick.
Are you a leader on the LHS wrestling team?
All the seniors do their part to lead. We've been with coach (Mark) Dulgarian for three or four years. So we know what he wants us to do. So we'll go around and help with moves that we know how to do. We're pretty vocal up here, too, if somebody is not doing what they're supposed to be doing.
How does football compare to wrestling?
When you're wrestling, there are no pads. The toughest guy's going to win. You get out there and start butting heads with people, and it carries over to football. There's a lot of pushing and pulling just like pass blocking, run blocking and all that stuff. As big a difference as it seems, it's all pretty much the same thing.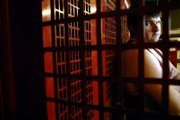 Which sport do you like better?
Football used to be my main thing, and I did wrestling to stay in shape. But through wrestling with coach Dulgarian, he makes it so you never want to stop.
How did you injure your thumb?
We were pass blocking, and I got my thumb stuck in a facemask and jarred it back. Then I figured I just sprained it. So I kept wrestling with it. Eventually, I found out that it hurt a little bit more than a sprain probably should.
What was the monthlong layoff from wrestling like?
That was the longest month of my life because it was just a lot of running and jumping rope ... I wasn't in as good a shape as I planned on being, but I hadn't lost it completely. I was still above a lot of guys that are in my weight class conditioning-wise ... (The injury) really strained me for a while, but once I finally got on the mat with a kid who's going to headbutt me a little bit, I was like, "Hey, all right, it's time to go."
Is your thumb 100 percent now?
It's getting there. It's feeling better than it was at the start of the season.
Are you going to play football or wrestle collegiately?
I need to be dedicated to one or the other for the time I'm there. I haven't decided which sport it's going to be, but I'm pretty sure it's going to be football - almost 100 percent.
Which schools are you looking at?
I've talked to Baker and Kansas Wesleyan. I've had a little bit of contact with Emporia State, but not very much. And I've talked to Independence (Community College) and Coffeyville (Community College). If I can't get into a Division-III school for some reason, then Independence would probably be a really high choice, along with Coffeyville.
Copyright 2018 The Lawrence Journal-World. All rights reserved. This material may not be published, broadcast, rewritten or redistributed. We strive to uphold our values for every story published.