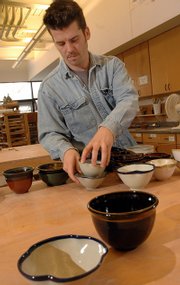 If history is any indication, the Lawrence Arts Center will be a popular place this Saturday.
The 10th annual Souper Bowl Saturday event starts at 11 a.m. and runs through 2 p.m.
"There will be people here at 10:30, if it's like it has been for the last several years," says Ben Ahlvers, education coordinator for the arts center, 940 N.H. "It'll be a madhouse for a half-hour or so."
People will be waiting in line to buy handmade ceramic bowls, made both by students at the arts center and other Lawrence artists. The annual event raises money for the center's ceramic program.
Ahlvers says there are more than 500 bowls for sale this year. Last year, the 580 bowls sold out.
"I do think the bowls are high-quality," he says. "I'd like to think that's part of it (the popularity)."
The bowls range in price from $10 to $30. Those who buy one also get soup from Hy-Vee and a roll from Great Harvest Bread Co.
Ahlvers says the fundraiser will help a quickly expanding ceramics program at the arts center. With assistance from previous Souper Bowl Saturdays, the Kriz Foundation and the Rice Foundation, the arts center recently purchased a new gas kiln. Some of the bowls for sale Saturday were fired in the new kiln.
Souper Bowl Saturday
When: 11 a.m.-2 p.m. SaturdayWhere: Lawrence Arts Center, 940 N.H.Cost: Bowls, made by arts center students and other Lawrence artists, range from $10 to $30. Price includes soup and a roll.
Ahlvers says many of the people who come to Souper Bowl Saturday have connections to the arts center. But the event also serves as an opportunity for community outreach.
"I hope it brings in people who might not be coming in the arts center already," he says. "It shows off a bit of what we do in the ceramic department."
Copyright 2018 The Lawrence Journal-World. All rights reserved. This material may not be published, broadcast, rewritten or redistributed. We strive to uphold our values for every story published.