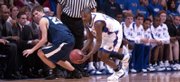 Former Olathe South standout Nick Holmes was not treated as the enemy during introductions before the Yale-Kansas basketball game on Jan. 4, 2006, in Allen Fieldhouse.
The Jayhawk faithful, in fact, gave the lifelong KU fan a nice round of applause despite the fact Nick and his twin brother, Caleb, were playing for the squad dressed in Yale Blue and White jerseys.
"People have told me that. I didn't hear (the cheers)," said Nick, admittedly in a fog that day playing in the house Phog Allen built.
Starter Nick and Caleb, who came off the bench during an 87-46 blowout defeat their sophomore seasons, will both be introduced as starters in their return engagement - tonight's 7 p.m. clash between the Jayhawks (12-0) and Bulldogs (3-6).
"Playing in the fieldhouse was special. It's one of the best places you could play in college," said Nick, a 6-foot-6 small forward who went 0-for-5 from the field and did not score in 17 minutes while dishing three assists with two blocks.
Caleb, a 6-6 off guard, scored six points off 2-of-6 shooting with three rebounds. He suffered five turnovers in 15 minutes.
"I remember we got beat pretty bad. We played all right the first half ... then it got out of hand," Caleb said.
The Ivy Leaguers led, 23-22, after 17 minutes, then scored just 23 points the rest of the way.
"I think we were up a couple points. They went on a run to end the half," Nick said, aware KU opened a 36-25 lead at the break. "It got away from us the second half.
"I think it's a lot different (this year). That was the last game of a 10-day road trip. This will be one game (road trip). I think we'll be a little fresher. Hopefully we'll compete better this time."
Yale hasn't played in 18 days - since a 76-67 loss to Boston University on Dec. 11 at the Bulldogs' gym in New Haven, Conn.
"I think for our league we are good. We were picked second in our league," Caleb said. Yale was selected second in the preseason Ivy League poll behind Cornell.
"We have more experience this year. Consistency is the big thing. Some games we play well, some games not."
Yale has lost road games against UMass (89-80), Stanford (72-61), UCLA (81-47), Holy Cross (60-39) and Boston (76-67) and a home contest to Wagner (71-68).
The Bulldogs won at Fairfield (70-66, OT) and at home against Sacred Heart (82-71) and Vermont (86-76).
"Expectations are high," Nick Holmes said of Yale's upcoming Ivy League slate. "We've played the sixth toughest schedule in the country. We played Stanford up there, and it was a four-point game with five minutes to go. We played with UMass the whole game. Our record doesn't reflect how good a team we have."
They know all about the challenge that awaits today. The Holmes brothers worked a week of KU coach Bill Self's camp last summer and played in pick-up games with the Jayhawks.
"It was fun," said Caleb, who averages 11.8 points and 3.3 rebounds a game. A 50 percent shooter, he's made 20 of 38 threes for 52.6 percent. "I know some of the guys. I grew up playing with Brady (Morningstar), played against Brandon (Rush) and (Brennan) Bechard. Camp was fun. We were coaching kids in a gym and played pickup one or two nights."
"We ran some drills in the morning and coached teams in the afternoon," said Nick, who averages 5.7 points (off chilly 28.8 percent shooting including 10 of 33 threes) and 4.1 rebounds a game. "It was a lot of fun."
KU coach Self said they were productive camp employees.
"I like both of them a lot," Self said. "Working the camp, I got to know them a little bit. I'm sure they are excited (about playing before 25-30 relatives). Their coach is playing us in large part because he likes to get his guys close to home to play."
The twins had fun practicing Wednesday night at their alma mater, Olathe South - a school they led to a 67-5 record during their careers, including a 31-1 record in Sunflower League games and state title in 2004.
Their brother, Denver, another product of the Kansas City Pump N Run AAU team, is a 6-foot-5 senior standout at O-South who is headed to Evansville on scholarship.
Denver will be in the stands today.
"This is just another game, but it is always fun to play in front of family and friends," said Caleb, who is majoring in Economics at the prestigious school. Nick majors in Economics and Political Science. "We try to win every game we play. This will be a tough challenge. KU is big and athletic."
"If they are not the best, they are one of the best teams," Nick said. "They'll be even better when Brandon and Sherron (Collins) are back to full strength. (We'll have to) try to play hard, hopefully get some stops on the defensive end. We've got to take care of the ball."
Copyright 2018 The Lawrence Journal-World. All rights reserved. This material may not be published, broadcast, rewritten or redistributed. We strive to uphold our values for every story published.