On the street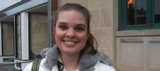 No, I'm keeping them all. I generally like most of the things I get, and it's not worth the effort to fight the crowd.
There seems to be no more than a pause between the time that the wrapping paper comes off the presents and shoppers go back out to hunt for bargains.
On Wednesday, Lawrence stores were bustling as customers returned unwanted items, took advantage of slashed prices and cashed in on gift cards.
The week after Christmas is one of the busiest of the shopping year, according to the National Retail Federation.
At 7 a.m., Target had a line of about 75 shoppers at the door, said Sue Ann Kuehl, who is executive team leader of guest experiences. Once they got inside, the customers found all holiday items - Christmas bulbs, cards, bows, lights - 50 percent off.
"That is a big driver to bring our guests in this time of year," Kuehl said.
Standing outside of Kohl's, Melodee Allmon admitted she had just purchased items that wouldn't be used for another 11 months.
"I just stick it in a box and forget about it. And, then I go 'oh God' when I remember I bought that last year," said Allmon, who planned to take her packages back home to Gulf Breeze, Fla.
Some of the after-Christmas bargains were being purchased with ever-popular gift cards.
Baldwin City residents Beth Morford and Michelle Patterson hired a baby sitter so they could spend the day using their gift cards. They were making the rounds to World Market, Kohl's and Home Depot.
"We need mom time," Patterson said.
"It keeps us sane," Morford added.
According to the International Council of Shopping Centers, almost 30 percent of gift cards are redeemed in the week after Christmas, and 65 percent of the cards are used by the end of January.
Even without gift cards, Wednesday's shoppers were making sure they got the presents they wanted. Among them was 20-year-old Susie Warden, who was home from college and spending her morning returning gifts.
"My mother and I had the discussion," Warden said. "You know (the present) kind of works, but there could be something that I might want better that is out there."
Kuehl said the rate of returns hadn't been extremely high at Target.
"It is usually the first two weekends after Christmas that are the heaviest for returns," Kuehl said. "People wait until, I think, their day off."
Surveys conducted by the National Retail Federation have found along with the rise in gift cards comes a drop in returns. In 2006, 64.3 percent of consumers said they did not return any gifts, which is up from 62.4 percent in the previous year.
Kuehl said she didn't expect the holiday shopping season to end for another couple of weeks.
But that didn't stop Target from clearing its shelves of Christmas decor to make way for the next big holiday.
Valentine's cards already are on sale.
Copyright 2018 The Lawrence Journal-World. All rights reserved. This material may not be published, broadcast, rewritten or redistributed. We strive to uphold our values for every story published.