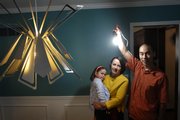 On the air
"Today" airs from 7 a.m. to 10 a.m. on Sunflower Broadband channels 8 and 14. The Lawrence segment is expected to run in the first hour.
A Lawrence couple are at the center of this morning's NBC "Today" feature about low-cost methods of improving a home's energy efficiency.
Johnny and Elizabeth Kim talk about their interest in saving money and conserving energy with NBC News environmental correspondent Simran Sethi, who is based in Lawrence. Also appearing will be Dave Baldwin, a Lawrence carpenter and handyman.
"We were excited to do this for the show," Johnny Kim said. "They wanted to pick a family and sort of walk through and showcase what was done."
The Kims, with Baldwin's help, put in weather stripping, fixed an insulated blanket over the water heater and changed a shower head. They also installed a programmable thermostat that will automatically lower the house temperature while the Kims are gone and start raising it just before they return. It also can be programmed to drop the temperature at night as they sleep.
"These are all simple fixes that any homeowner can do," Johnny Kim said. "They are not real expensive, and they are not major renovations."
Most of the improvements can be done without the need for a handyman, Baldwin said.
"They said they needed a pretty face and a tool belt," Baldwin said with a chuckle. "Well, I had the tool belt."
Sethi said she pitched the story idea to NBC because home heating costs and energy efficiency are especially important this time of year.
"I thought it had a really strong consumer interest because it's something that is universal," she said. "A lot of areas have received winter a little early this year."
Sethi and a camera crew filmed the segment early last week in the wake of the ice storm that struck much of Kansas.
"It will be interesting," Johnny Kim said. "It will be our first time being on national television."
The Kims, who have a 2-year-old daughter, moved from Texas to their two-story house with a basement more than a year ago. They said they have always had an interest in improving the environment and in energy efficiency.
"The Kims have a sincere interest in this from a number of different angles," Sethi said. "It's about looking at the world differently and leaving a different kind of legacy."
Sethi is in New York and will appear in person with "Today's" Ann Curry to discuss the segment.
Copyright 2018 The Lawrence Journal-World. All rights reserved. This material may not be published, broadcast, rewritten or redistributed. We strive to uphold our values for every story published.