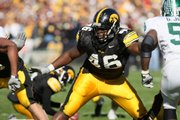 When former Free State High uber athlete Christian Ballard packed up his football gear and headed to Iowa University this summer to begin his career as a Hawkeye, it didn't take him long to realize he was neither in Kansas nor high school anymore.
On the first day of summer conditioning in June, the 6-foot-4 270-pounder got a rude awakening.
"I was out there warming up, and I was about to pass out in the first 10 minutes of warmups," he said in a phone interview this week. "The tempo's so much faster, you know. There's no walking at all. Everything's 100 percent. Everything's hard every time we do something. It was a good wake-up call."
It wasn't the only call he got either. Ballard went to IU as a tight end, but once he got to Iowa City and saw the pace the tight ends played at, he decided to change positions.
"I guess the way I was built, I didn't think I was going to be playing tight end that long anyway. I decided to move (to defensive end) because I knew I could make some kind of statement on the D-line."
Eventually, the true freshman let his performance do the talking. Ballard played in 10 of 12 games for Iowa (6-6), recording 15 tackles (five solo), four tackles for loss (-25 yards) and 21â2 sacks for -23 yards. But he couldn't have made any statement without listening to the sometimes harsh words of his defensive line coach, Rick Kaczenski, who Ballard said brought out his toughness.
"He was in my face pretty much the whole camp. He wouldn't let me practice soft. If I wasn't doing what I was capable of, he'd really get on me and embarrass me in front of everyone," Ballard said. "It wasn't what he said, it was just how he approached it. Whenever I made a good play, he wouldn't let me get in my comfort zone."
Kaczenski said that it didn't take long for Ballard to adjust to the coach's in-your-face style.
"I just had to give him a few reminders every once in a while: This isn't high school; the train keeps moving here," the former Notre Dame offensive lineman said, adding that he tried to tap into Ballard's toughness and get him to play with some pride. "He responded well. I think Christian, just through his upbringing and the home that he comes from and the parents he has, he's just a kid who definitely had (pride) in him. It was already there."
As preseason two-a-days started, the Iowa staff first really took notice of Ballard during a blocks drill - a favorite of head coach Kirk Ferentz. The drill lines an offensive guard, tackle and tight end up against the defense's tackle, end and linebacker and the opposing sides basically hit each other in the mouth when the whistle blows. Kaczenski said that's when Ballard really started to turn the corner and become a tough defensive lineman capable of playing during his first fall on campus.
"All of the sudden you start seeing a little glimpse here, a little glimpse there, just the way the guy bends and moves," Kaczenski said, admitting that Ferentz first pointed out Ballard's play to him about a week into camp.
Ferentz told Kaczenski: "This guys got a chance to help us right away."
Ballard played in spots as a pass-rusher for the first few weeks of his Hawkeye career, but his breakthrough moment came October 27 against Michigan State with his team down 17-3. MSU ran a draw and Ballard hit the Spartans ball-carrier in the backfield, slowing him down and allowing one of his teammates to get the tackle for loss.
The play had the 70,585 fans in Kinnick Stadium "going crazy," Ballard said. "I guess that was the turning point for the season. I knew that D-end was for me and I knew that I could really play at the Division I level."
Iowa went on to win the game 34-27 in double overtime, and Kaczenski knew he had a young player who he could trust.
"Every time we threw him in there he would respond," the coach said, adding that Ballard's practice habits and knowledge of the defense translated into productive game action.
The last four games of the season, Ballard was playing 40 to 50 snaps as the Hawkeyes' No. 2 end. Those numbers figure to take a significant jump next season, however, with the departure of senior first-stringers Bryan Mattison and Ken Iwebema, who Ballard credits with teaching him a lot about how to play at the Division I level. Kaczenski said the IU depth chart is open right now, but Ballard could be at the top of it next August.
"We're counting on him to step up and take on the role that Bryan Mattison (a three-year starter) had," Kaczenski said. "I think Christian has the ability and determination to be successful and fill those shoes."
Kaczenski gushed about Ballard's attitude and his rare combination of size, strength and speed.
"The guy runs around out there like a gazelle," he said, adding that Ballard has all the tools to be a great defensive end. "When you see that kid move out there, it's kind of freakish."
Who knows whether that ability would have been on display had Ballard stayed in town and played for Kansas University, who he committed to originally before changing his mind and heading to Iowa? But Ballard doesn't think about what might have been, even though KU is 11-1 and headed to the Orange Bowl while Iowa didn't receive a bowl invite.
"I can't say that I have any regrets. I'm completely happy here with the coaching staff, the players and I've made myself at home up here," the happy Hawkeye said. "I'm having a great time playing. It's great football, a lot of exposure.
"I'm still happy with how KU did this year. It makes me proud to see the hometown doing good."
And it makes Kaczenski happy to see Ballard in gold and black instead of crimson and blue.
"I'm glad he's at Iowa," said the coach who helped transform him, "that's for sure."
Copyright 2018 The Lawrence Journal-World. All rights reserved. This material may not be published, broadcast, rewritten or redistributed. We strive to uphold our values for every story published.