Photo Gallery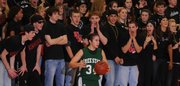 City Showdown
The Lawrence High and Free State boys' and girls' basketball teams met tonight in the City Showdown.
Conner Monarez was the X-factor. Then again, considering the last letter in his last name, maybe he was the Z-factor.
"Z-factor : sounds good to me," Monarez said with a smile.
Call him X, call him Z, but don't call him out for not shooting the three-point goal.
A 6-foot-1 junior, Monarez's four three-pointers fueled Free State's 71-64 boys basketball victory over Lawrence High on Thursday night in the Lions' gym.
"Somebody had to step up tonight," Monarez said. "We needed somebody to finish the last piece of the puzzle."
Considering his four treys matched the Firebirds' entire three-point output in the first five games, Monarez was a gigantic piece that enabled Free State to solve the jigsaw of the Lions' zone.
"Absolutely," Lawrence coach Chris Davis said. "We were really focusing on stopping (Weston) Wiebe inside, and we knew one of the liabilities was Conner shooting from the outside."
With Monarez loosening the zone, the 6-4 Wiebe was able to maneuver for a game-high 24 points. Wiebe even contributed a three-pointer of his own, but he knew Monarez was the catalyst.
"He made it easy," Wiebe said.
Monarez, who finished with a career-high 15 points, did most of his damage late in the third quarter. Free State was nursing a 38-37 lead with 2:28 remaining, then Monarez drilled a pair of treys and a free throw in the next minute and a half to spark a 9-0 run. Soon thereafter, he nailed another three just a minute into the fourth quarter.
"He hit some enormous shots," Free State coach Chuck Law said. "They were packing it in and daring us to shoot, and three-pointers are certainly not something we've excelled at."
As a member of the Firebirds' junior varsity last season, Monarez's best two games were against the Lions' JV, so it's clear he loves playing Free State's crosstown rival.
"Yeah, I kind of get shaky playing in front of strangers," Monarez said. "I've known all their guys since junior high, what their tendencies are."
Despite lagging by as many as 14 points midway through the fourth quarter, the Lions staged an improbable late run, thanks to a pair of NBA-distance three-pointers from Dorian Green and another long-ranger from Lance Kilburn in the last minute.
"Unbelievable," Law said of those late Lawrence treys. "I don't know if that's something they practice. Those were phenomenal."
Thanks to those threes - and a couple of Free State turnovers - the Lions cut the deficit to 69-64 with :08 remaining. But Free State guard Kris Wilson drained a pair of free throws at :04 to ice the Firebirds' fifth victory in six starts.
Lawrence High (3-3) did what it had to do after falling behind. The Lions needed to make three-point goals, and they had to send the Firebirds to the foul line.
"Our game management was good at the end," Davis said. "We played as well as we could, but they made their free throws."
Specifically, the Firebirds made 14 of 18 charities in the fourth quarter, including 6-for-6 in the last minute while the Lions were on fire from beyond the arc.
"It's a darned good thing we made them," Law said, "because our ball-handling was atrocious. I told them it really matters what you do at the line in the last four minutes, that anybody can make them in the first half."
Senior Craig Rosenstengle went 4-for-4 at the line before Wilson canned the clinching final two charities. Wilson had 10 points - seven at the line. He also accounted for the Firebirds' sixth three-point goal.
"They made three-pointers," the Lions' Baba Diallo said of the Firebirds, "and I didn't think that would be the difference in the game. We had no idea they would shoot like that."
Lawrence High finished with nine three-pointers - four from Green, who finished with a team-high 23 points, three from Bobby Davis and a pair from Kilburn. Diallo and Kilburn were in double figures with 10 points apiece.
Go figure
48
Combined points scored by LHS, FSHS boys in fourth quarter
14
Deficit the LHS boys faced midway through the fourth quarter
5
Deficit the Lions faced with eight seconds remaining
6-for-6
Free State's boys' free-throw shooting in the final minute
Copyright 2018 The Lawrence Journal-World. All rights reserved. This material may not be published, broadcast, rewritten or redistributed. We strive to uphold our values for every story published.