Photo Gallery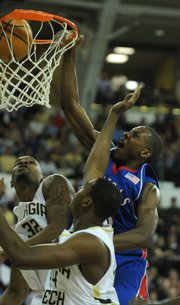 KU vs. GT
Atlanta — The Alexander Memorial Coliseum scoreboard Tuesday night showed that it was Kansas University that defeated Georgia Tech, 71-66, but that wasn't the way Yellow Jackets coach Paul Hewitt saw it.
"I'm not taking anything away from Kansas - they played really, really well - but we did it to ourselves again tonight," Hewitt said. "We had a two-on-nothing break and didn't score. You can't blow as many opportunities as we did tonight against a quality opponent. They are a good basketball team, a very well coached team. They executed very well tonight and have great size, but we can't do some of the things tonight and expect to beat a good basketball team. We are a talented team, but not a good basketball team, and there's a difference. That's why I thought we were going to win."
Georgia Tech dropped to 4-5.
Hewitt said he was confident Tech would win because he didn't think the Kansas big men could stop his team's big men from facing the basket driving.
"We tried to beat their bigs off the dribble and get them in foul trouble, and we did that early, but never were quite able to take full advantage of it," Hewitt said.
Georgia Tech point guard Matt Causey had one of the key plays in the comeback. KU guard Sherron Collins, on the verge of falling out of bounds under Tech's basket, tried to throw the ball off of Causey's shins.
"I recognized that, stepped back and kind of just caught it," Causey said. "You have to have possession of the ball to call a timeout, and he was falling out of bounds."
Clinch, guarded most of the night by efficient defender Russell Robinson, scored a game-high 22 points and wasn't bragging afterward.
"It's going to be like that every night in the conference," Clinch said. "The ACC is so tough. That's something I've seen before and I'm going to see more of in the season."
Copyright 2017 The Lawrence Journal-World. All rights reserved. This material may not be published, broadcast, rewritten or redistributed. We strive to uphold our values for every story published.