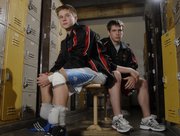 Whether they like it or not, Lawrence High wrestlers are finding a pair of juniors leading them this season.
Brian Cain and Blake Greenfield aren't the oldest LHS grapplers, but they have never backed down from an opponent and they won't back down from their leadership roles either.
Cain said he sometimes feels odd calling out an LHS elder statesman, but it comes with the territory.
"Sometimes you have to step up and tell (seniors) what to do," said Cain, who qualified for state last year. "They don't like it a whole lot, but you've got to do it."
Like Cain, Greenfield qualified for state as a sophomore, and the two have responded to coach Patrick Naughton's request that they lead LHS with their effort.
"We both made state last year and a lot of people are new," Greenfield, a 135-pounder, said. "We're just trying to help people out and work hard - hopefully place at state this year."
Naughton, in his first year as LHS coach, said the rest of the Lions have accepted the young leaders.
"The team's responded pretty well," he said. "They're a close-knit group."
And part of that acceptance came with the way the two have gone about it.
"We don't really talk about it, you kind of just have to do it," Cain said.
Leading by example, Greenfield added, can be effective. He makes his mark by executing drills correctly and giving maximum effort. At the end of Monday's practice, he set the pace by winning every sprint and pushing his teammates.
Cain, who wrestles at 160 pounds, said a new role isn't the only difference for him this year.
"Things come easier in a match. I know stuff a lot faster than I used to," he said, adding that wrestling a lot over the summer improved his skills and gave him confidence. Cain was intimidated at times as an underclassman, but now enters each match with a different approach: "OK. Let's go. Let's wrestle."
He took that mindset into the Eudora tournament earlier this month and went 6-1 to finish first in his pool before a back injury resurfaced in tournament play and forced him to drop two matches and finish sixth.
Greenfield, on the other hand, has yet to wrestle this season for LHS. A trip to New York with the school's DECA club and a family trip made him miss the first two events. Then a Dec. 14 match at St. Mary's was postponed because of winter weather.
Now the two juniors and the rest of the Lions have to wait until Jan. 5 for their next competition.
"They're chomping at the bit to get back in there," Naughton said.
The Lions will need to maintain that hunger during their winter break. Once they get back to practice next Thursday, they'll turn their focus to the Shawnee Mission South tournament, which Naughton said will be huge because of the presence of other Sunflower League teams and the possibility that down-the-road seeding could be effected.
"It's almost like a new season," Cain said of the post-holiday portion of the schedule. "The 2007 season is kind of like a practice and toward the end of the year, that's when it matters."
It will start mattering Jan. 5 at SMS, and when that day finally rolls around Naughton's Lions will lean heavily on their two junior leaders.
"They're definitely going to be our two key spots that we're looking to get some points from," the coach said of Cain and Greenfield.
Cain said he expects all of the Lions to step up in January and beyond.
"During a dual, you can only win if everybody does their job," he said.
And these two are taking on all that their jobs as leaders entail.
Copyright 2018 The Lawrence Journal-World. All rights reserved. This material may not be published, broadcast, rewritten or redistributed. We strive to uphold our values for every story published.