Photo Gallery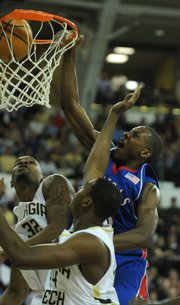 KU vs. GT
Atlanta — Football is so complicated that even the coaches don't know what happened in the game until they watch the film.
Maybe basketball has gotten that way, too, because after Kansas University survived itself and Georgia Tech, 71-66, Tuesday in its second road game of the season, the coach and a couple of Tech players talked about how Kansas played with such poise.
Huh?
Russell Robinson and Mario Chalmers combined to go 0-for-3 from the free-throw line in the final minute, and Sherron Collins pulled a playground move, trying to throw it off the opponent's shins, and it backfired into what amounted to an assist from Collins on the bucket from Tech's Matt Causey.
Yet, afterward, poise was the word of the day in the weight room, where two of the home team's players were brought for postgame interviews.
"Kansas is a very poised team," said Tech guard Lewis Clinch, who scored a game-high 22 points. "They played together and played collectively as a team in the end, and that's what got them over the hump."
On this night, KU did not play up to its own standards or that of the nation's third-ranked team.
"They came out and got the W," Clinch said, trying to disagree. "You can't argue with that. You have to give them credit for staying poised."
There's that word again. Poised. On a night Kansas amassed 18 turnovers.
Georgia Tech rattled Kansas.
"We felt like our hard-nosed defense might have been getting to them a little," Causey said.
Finally, someone who saw the same game I saw. But wait, the dreaded 'P' word would roll off Causey's tongue before long.
"We're going to play hard until the buzzer sounds and try to give ourselves a chance to win," Causey said. "They still played poised at the end, and came out with a victory, so you can't be critical of them there."
Guess I'll have to reserve further comment on the poise issue until watching the game on film again. Maybe not. Once was enough for this one. Both teams played rugged defense underneath the basket, and the refs seemed eager to give their whistles a workout. One ... break ... in ... the ... action ... after ... another ... does not a pretty game make.
Style points weren't needed for Kansas to run its record to 11-0. A rebounding advantage wasn't needed either. Tech won that battle, 34-29, even though Kansas missed fewer shots than the home team missed. Defense was what won this one.
"You can ask our guys, they get more hung up on guys scoring on them than they do actually scoring points, which is a pretty good sign," KU coach Bill Self said.
Kansas doesn't give up many easy baskets. They do such a good job of contesting dribbles, passes and shots on the outside and inside that they don't figure to have many off nights defensively. Kansas blocked nine shots, and Georgia Tech did not block any. Sasha Kaun contributed three blocked shots, second to Brandon Rush's four.
Not that Self, one of the nation's most picky defensive coaches, was satisfied.
"I thought we really got after them to start the game, and after that I didn't think we did," Self said. "I didn't feel like every bounce or pass was contested the whole night."
Enough were contested to overcome a lack of - to use a word tossed around a lot - poise.
Copyright 2018 The Lawrence Journal-World. All rights reserved. This material may not be published, broadcast, rewritten or redistributed. We strive to uphold our values for every story published.