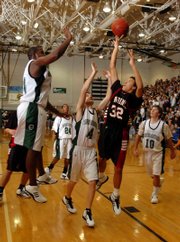 From the start, the annual Lawrence High-Free State basketball showdowns have stirred emotions.
Though each showdown has had its own unique story line, none has lacked energy.
Even the coaches sometimes get caught up in it.
Lawrence High girls basketball coach Kristin Mallory - in her seventh year - has watched the atmosphere at the two schools' basketball games rise to another level, saying that in some ways, it has grown to college levels. Mallory recalled that energy manifesting itself during a boys game a few years ago.
"It was when (former Free State coach Jack) Schreiner was coaching," Mallory said. "And during a timeout, one of the Lawrence High boys pulled down a sign behind the bench, and there were Free State license plates that spelled out LHS. It really changed the course of the game, because some of the players couldn't figure out what the commotion was. I think Lawrence High went on a 7-0 run."
Free State girls coach Bryan Duncan only has to go back to last year for one of his favorite memories.
"The second time we played them is a memorable one," he said. "We were down the whole game and showed signs of senior leadership and poise and pulled through in the end."
For some of the coaches who have been around the events for a while, the fact that the rivalry has endured and grown is a pleasant surprise.
"I thought the whole idea of Free State being a new school would've worn off," said Free State boys coach Chuck Law, who has coached the team for the last three years, but has been around the rivalry almost since its inception. "But it when comes to the athletic field, it hasn't worn off at all. It's still as intense as it ever was."
Countdown to the Showdown
¢ The buildup to the first Lawrence High-Free State basketball showdown concludes in Thursday's Journal-World, where we'll feature Free State's Sarah Craft, the player with the most experience in the city showdown, and take a look at each game.
Copyright 2018 The Lawrence Journal-World. All rights reserved. This material may not be published, broadcast, rewritten or redistributed. We strive to uphold our values for every story published.