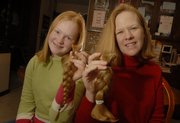 For years, Morgan and Renee Linder had long hair that would make even Goldilocks envious.
This holiday season, the mother and daughter cut off their shining, honey-colored strands and donated them to Locks of Love.
"It's goldish, reddish, pretty thick," 11-year-old Morgan said of the bright hair she loves so much. "I hope that it goes to somebody that really likes the color of it, too."
Locks of Love is a national nonprofit that provides hairpieces to children who lose their hair because of illness. The organization has helped more than 2,000 children get hairpieces since its inception in 1997, according to its Web site.
Renee Morgan looked up Locks of Love on the Web three years ago, and the mother/daughter duo set out on the goal.
"We decided that we would do that some day together," Renee said. "It was something we always wanted to do."
Now, the time seemed right. The mother and daughter called on hairstylist Lisa Pippert to assist. Pippert called them perfect candidates for Locks of Love because their hair is unprocessed and naturally gorgeous.
"They were both excited," Pippert said. "Dad was there to watch and take pictures."
The shorn braids were dropped in a bag and sent off to Locks of Love.
"It feels great that it can go to somebody," Renee said. "I think we're going to try it one more time."
Copyright 2018 The Lawrence Journal-World. All rights reserved. This material may not be published, broadcast, rewritten or redistributed. We strive to uphold our values for every story published.