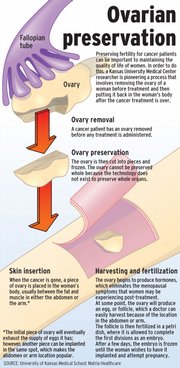 For a woman with cancer, one of the toughest side effects can be finding out that treatment could lead to infertility.
Many treatments also lead to symptoms of menopause even though a patient may be just 30 or 40 years old.
A Kansas University Hospital doctor, however, is hoping to change those grim prospects.
Dr. Samuel Kim has developed an experimental procedure that already has stopped the early onset of menopause and soon may prove that it also can maintain a woman's ability to have children even after aggressive chemotherapy.
"This is emerging technology," Kim said. "We have a long way to go. I'm one of just two people who started to develop this technology."
The technology Kim is talking about involves removing a woman's ovary, saving it, and then reimplanting it after she's been declared cancer free. Seems simple enough, but because of technological limitations it's anything but.
The first step in the procedure involves removing one of a woman's ovaries. Kim then slices it into pieces and freezes it. The organ must be cut up because there's no technology to preserve whole organs.
Then once a woman is declared cancer free, Kim can reimplant the ovarian tissue in the body. But because he can only implant a portion of an ovary - a portion that will eventually exhaust its supply of eggs and hormones - it must be put in a place that can be easily accessed. That eliminates the traditional location of the ovary, so Kim has developed a procedure that implants the piece of ovary in the area between fatty and muscle tissues in the abdomen.
Almost immediately, according to clinical trials Kim has done, the ovary starts to produce hormones that stop the menopause-like symptoms. The ovary also, eventually, will produce a follicle that can be fertilized and implanted in a woman's uterus, leading, hopefully, to a baby.
"This procedure is in the very, very early stages," he said. "It's an experimental treatment, and we have to be cautious."
No baby, yet
Kim hasn't been able to take the process all the way to completion because his patients haven't been ready to have a baby or other side effects - like a damaged uterus - have interfered. But he has three women who have successfully produced eggs that have been fertilized and preserved. One is looking for a surrogate, and others are waiting until they're ready to have children.
Marchelle Arnett, one of Kim's patients, is interested in having a baby. She had the transplant and recently discovered the ovary had produced an egg.
She flew to Kansas City from her home in Idaho but didn't make it in time for Kim to collect the egg. Kim said she'd be back in a few months to try again.
Kim said one of the major benefits of this treatment is it can preserve the fertility of patients who don't respond to traditional methods, like giving a woman fertility drugs. Some patients, Kim said, can't afford to wait even a month to begin treatment.
"This is also an option for young cancer patients," Kim said. "We cannot do embryo freezing in pre-pubescent girls" because they are not yet able to ovulate.
For those cancer victims, the option is a procedure like this or perhaps facing a lifetime of menopausal symptoms and infertility.
Though the procedure is experimental, and usually not covered by insurance, Kim said he has worked hard to keep the price down.
He said the procedure costs between $4,000 and $5,000 at KU Hospital.
"I want to make it affordable," Kim said. "I don't charge a doctor's fee."
Top-notch doctor
Kim said he was drawn to KU by its strength in basic science and its offerings in reproductive health.
Dr. Carl Weiner, chairman of the department of obstetrics and gynecology, said that reproductive health has been overlooked nationally.
"What we've done is put together a program that's not focused on women, clinically," Weiner said. "We're probably the only place in the country that covers all four bases of reproductive health: Clinical care, basic science, male and female fertility preservation."
Weiner said he was beyond excited when he was able to bring Kim to KU Hospital and the staff in his department.
"He's one of the top three or four people in the world," Weiner said.
Weiner said Kim's effort was part of a larger effort of the reproductive health group to work with the cancer center at KU Hospital. But in the future, Weiner said, the procedure may be useful not just to women with cancer but also to women who want to preserve their fertility to an older age.
But the technology is not there yet.
Kim said he's using the affiliation with the cancer center to sign up new patients. He has helped 11 patients since arriving at KU, and he's looking to help more.
The patients whom he has already operated on have had their ovaries preserved but haven't been declared cancer free and therefore are not ready for the second phase of the treatment.
As those women and some of his earlier patients complete the entire process, Kim is confident that a baby will be born.
"We are ready when the patient is ready," Kim said.
Copyright 2018 The Lawrence Journal-World. All rights reserved. This material may not be published, broadcast, rewritten or redistributed. We strive to uphold our values for every story published.