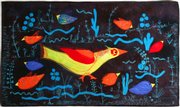 Quilts from the Kansas Art Quilters organization have toured the state.
But they never had been in the office of the state's top executive - until now.
The group has 11 quilts now on the display in the Governor's Office. Four Lawrence quilters - Linda Frost, Nan Renbarger, Janet Perkins and Marge Banks - are among those whose works are featured.
"It feels like a real honor, to have work at the Governor's Office," says Frost, who is the organization's exhibit coordinator.
The Capitol exhibit comes after the group was featured in the Alice C. Sabatini Gallery at the Topeka and Shawnee County Public Library.
The quilts depict a variety of scenes and abstract images. The literal images include flowers, a bird and an old homestead.
Kansas Art Quilters, formed in 2001, includes 60 members from across the country.
"We didn't really pick Kansas-themed quilts, though a couple of them are a Kansas theme," Frost says of the governor's exhibition. "There are a couple of really nice landscape quilts. We wanted to go for a variety of techniques, with some pieced and some appliqued."
The exhibit will continue through the end of April.
Copyright 2018 The Lawrence Journal-World. All rights reserved. This material may not be published, broadcast, rewritten or redistributed. We strive to uphold our values for every story published.