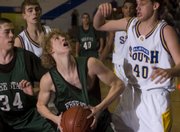 Olathe — Free State High boys basketball coach Chuck Law had been telling his team for the better part of the last week that he needed some role players to step up and help out leading scorers Kris Wilson and Weston Wiebe.
On cue, those role players took the spotlight at times Friday night at Olathe South in a 67-57 Firebirds victory.
While Wilson (25 points) and Wiebe (21) carried the load as usual for the Firebirds (4-1 overall, 1-0 Sunflower League), they got offensive support from junior forward Connor Monarez in the first quarter when he scored five points and drained the only three for FSHS.
In the second quarter, senior Craig Rosenstengle scored seven of his nine points. He hit each of his three free-throw attempts and got two buckets on offensive rebounds. Rosenstengle said he knows he needs to capitalize on the scoring chances he gets.
"I just need to be a role player," he said, adding that most of his opportunities are created by Wilson and Wiebe. "I know I need to score and put it in (when those chances come)."
Law said if Rosenstengle produces, everything else should fall into place.
"If we can get a consistent third scorer like Craig did tonight, then we can have our role guys do what it is they do for this team," Law said. "We kind of have this mantra of: Do your job."
That job varies from player to player, and Law said all seven of the Firebirds who played Friday were "fantastic." Six-foot junior forward Chase Hoag guarded OSHS's taller post players all night and contributed five points, three of which came at a critical juncture with five minutes left in the game. The Falcons (3-2, 0-1) had just cut the deficit to nine when Hoag scored on the baseline, drew a foul, and hit his freebie to end a 7-0 OSHS run.
According to Law, junior guard Sean Brown's job it to play defense.
"Sean Brown, off the bench, was phenomenal defensively tonight," Law said, noting the junior's footwork. "We have got to use our quickness."
The Firebirds utilized their speed throughout the conference road victory, forcing turnover after turnover. That led to a layup line in transition, especially in the second quarter when they went on a 12-0 run.
Wilson said the team's defensive quickness has been the difference in its four wins.
"I think everybody has the ability to just get out and guard," he said, noting the importance of forcing tough shots when steals aren't readily available. "Everybody's just up in their man and the pressure's great. Once we get the rebound, we just call for the outlet and we go."
That mentality will be called upon by Law from here on out.
"Halfcourt offense is not necessarily our forte," the coach said. "We have really tried to impress upon them the necessity to get out in transition and create easy baskets. And we've got some guys who can get out and run. We don't have big guys, but we have some guys who can run."
And run, they did, to a big early-season victory. To do so in a hostile environment against a talented foe kind of surprised Law.
"I've got to be honest, that came out of nowhere," he said. "It just came together. Sometimes as a coach you don't know when that's going to happen."
The surprising performance, Wilson said, was the result of the team being mentally prepared.
"We came in here focused - more than we usually are - and we pushed the ball when we had chances," he said.
Falcons senior Denver Holmes, a 6-foot-4 versatile forward who has committed to play collegiately at Evansville, scored 17 and went 4-for-10 from the field.
The Firebirds, who have yet to play a home game, will stay in town for their next road contest Thursday at Lawrence High at 7 p.m.
Copyright 2018 The Lawrence Journal-World. All rights reserved. This material may not be published, broadcast, rewritten or redistributed. We strive to uphold our values for every story published.