Photo Gallery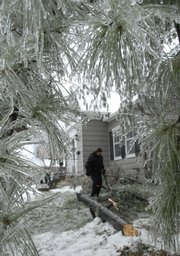 Ice Storm
-->
On the street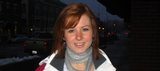 I think every student is hoping we get hit, but I really don't think we will. I'll definitely be studying for my finals either way.
Lawrence got lucky.
The storm that knocked out power for thousands of Kansans and spurred Gov. Kathleen Sebelius on Monday to declare a state of emergency for all counties passed through the city without the mayhem that many had braced for.
"I think it was a minimal storm compared to what it could have been," said Jennifer Schack, 6News meteorologist.
The nearby school districts of Baldwin City, Eudora, Tonganoxie, McLouth, Oskaloosa, Basehor-Linwood and Perry-Lecompton canceled classes today, the second day in a row.
Lawrence public schools are in session today. Lawrence School Superintendent Randy Weseman informed the Journal-World of the decision to hold classes on Wednesday just after 5 a.m.
"We have driven all the bus routes, and all the parking lots and sidewalks have been treated so we are in really good shape," Weseman said.
The number of Westar Energy customers in Douglas County without electricity at 10 p.m. Tuesday was 2,800, a spike following an afternoon in which the number had been steadily declining to fewer than 200. Dispatchers said there were reports of outages Tuesday night between Sixth and Ninth streets and Iowa and Mississippi streets.
Schack on Tuesday evening said an expected drop in the overnight temperature to 21 degrees would freeze untreated wet spots and could cause black ice in some areas today. She said a potential for power outages remained.
But Lawrence appeared to have fared better than other areas where high numbers of power outages were reported and the layer of ice was thicker.
Schack estimated the freezing rains left a layer of ice between 2/10 and 1/4 of an inch thick in Douglas County.
"A quarter of an inch is obviously enough to bring down some power lines and cause some road problems," Schack said, "but the roads were mainly wet for this, and that's really the best-case scenario we could have asked for."
Many trees damaged
Many Lawrence residents woke up Tuesday morning to the crashing sounds of ice-covered trees and limbs.
Joshua and Michelle Smith awoke from sleep when a tree fell against their front window and door at 3013 Bainbridge Circle in west-central Lawrence.
"Surprisingly it didn't break anything," Michelle Smith said.
Only 30 minutes later, the other half of the tree fell toward the street, blocking off one of the couple's cars. A second car had already been moved next door.
"It looks kind of a like a tornado hit," Michelle Smith said.
Bob Szrot got his wake-up call about 4 a.m. when a large tree limb fell on his house at 1515 Cadet Ave. in east Lawrence. The limb tore out the power line.
"Right now we have a tree service in here and they've been kind enough to come in this morning in the horrible weather to get things cut down," Szrot said later Tuesday morning.
The storm's aftermath kept tree services busy clearing yards and driveways as well as roofs.
"Oh, yes, we're swamped," said Newton Mulford, owner of Mulford's Tree Service. "It gets pretty sloppy. Everything's covered with ice; it gets slippery. Just hard to handle."
Power problems
The ice alone caused many power lines to falter. Lawrence-Douglas County Fire & Medical were kept busy checking sparking or downed power lines throughout Tuesday morning.
A power line's ability to withstand the weight of ice depends on its age and size, Westar spokesman Nick Bundy said. Lines are built to standards but the standards may vary depending on the age of the line.
"Certainly we're concerned when any amount of ice is hanging from them," Bundy said Tuesday. "We've been lucky. It has not been windy. If the winds were to pick up that would not be good."
Lawrence police received few reports of traffic accidents. "The streets are wet but not icy," police spokesman Kim Murphree said about noon Tuesday.
Temperatures hovered around the freezing mark throughout Tuesday afternoon. Lawrence street crews have been on standby since the weekend and likely did more work treating the roads from the weekend weather than they have been for the freezing rain since, said Chuck Soules, city public works director.
"I'm assuming ... as it gets colder, more of this will freeze and our guys will be out there doing what they can to make sure we have safe streets," he said Tuesday afternoon.
Street crews are working 12-hour shifts, Soules said.
Area fares well
Concern about the ice storm led the Douglas County chapter of the American Red Cross on Monday to make preparations to open shelters at locations in Lawrence, Eudora and Baldwin City, executive director Jane Blocher said. The shelters were not needed, she said Tuesday.
"I think most people were prepared," she said.
Baldwin Fire Chief Allen Craig said the weather caused no problems, except for one incident about 6 p.m. Tuesday when an elderly man became trapped on a ladder by a tree limb while trimming icy limbs in the 800 block of Dearborn Street.
"One of the limbs that he cut basically fell on the ladder and pinned his back to the ladder," Craig said. "He couldn't go up and he couldn't go down."
Craig said the man was assisted and not injured.
Scattered power outages also were reported in neighboring Jefferson and Leavenworth counties, officials there said.
In Tonganoxie, streets and power lines throughout the city showed off a coating of ice from the precipitation, but for the most part they were free of ice during the daylight hours.
"We dodged a bullet, I guess, at least for now," Tonganoxie Mayor Mike Vestal said early Tuesday afternoon as a soaking - not freezing rain as had been forecast - continued to fall.
Copyright 2018 The Lawrence Journal-World. All rights reserved. This material may not be published, broadcast, rewritten or redistributed. We strive to uphold our values for every story published.