Photo Gallery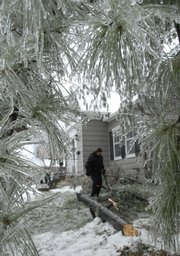 Ice Storm
Maybe it's the Tonganoxie split.
Perhaps it's carbon dioxide being pumped out of the Westar Energy plant north of town.
Or possibly it is just the right time to be living in Lawrence because somehow, in the past year, Lawrence has missed out on the nastiest of nasty weather that has ravaged Kansas.
What was forecasted to be a major ice storm with downed power lines and sloppy driving conditions turned out on Tuesday to be little more than a short-term inconvenience for most Lawrencians.
"We knew there was going to be a freeze line, and we knew there would not be a straight line," said 6News Meteorologist Jennifer Schack. "(Monday) we knew there was a potential we could be in the middle and it could be all frozen in Topeka and Kansas City."
In reality, this ice storm was worse out west and mostly a nonevent in Kansas City and Lawrence.
This isn't the first time Lawrence has dodged a weather bullet. Last summer, for example, southeast and south-central Kansas were racked by terrible storms and disastrous flooding.
But Schack said there's no overarching reason - not Tonganoxie nor CO2 nor the shape of the Kansas River valley - for Lawrence dodging another meteorological bullet.
Schack, as another example of lucky Lawrence, pointed to a winter storm last year that dumped eight inches of snow in southeast Douglas County, but zero inches in Lawrence.
"In that instance, we never saturated the atmosphere on top of us. Snow was in the air but it never hit the ground," Schack said. "There's always going to be a snow (or ice, or thunderstorm) line, but there's no meteorological reason why we may seem to be on the line more often."
One thing Schack is sure of, though, is that weather balances out. Looking back to the microburst in 2006 or the tornado in 2003, major storms obviously do hit Lawrence. And Schack said there's no doubt Lawrence will get its share of extreme weather in the future.
Copyright 2018 The Lawrence Journal-World. All rights reserved. This material may not be published, broadcast, rewritten or redistributed. We strive to uphold our values for every story published.