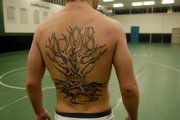 Branded with tattoos from front to back, Free State senior Chris Thompson is a much nicer person than his opponents believe.
"I kind of like it, though," the Firebirds' 135-pound wrestler says about his opponents' ideas that he's some kind of a rebel. "Before matches, guys will talk about my tattoos, and I guess they're kind of a little intimidated. It's cool."
So are the tattoos.
The first, a nine-inch inscription of the word "forgiven," which slides down the right side of Thompson's rib cage, is indicative of his devotion to God.
A second, two matching sparrows on the upper portion of his chest, are self-made, pieces of art that he drew for a friend shortly after she died a few years ago.
The last, and most recent, is a giant family tree on his back. It's not finished yet. He's planning to add color to it and maybe a few more branches. Hidden in the massive tree are three initials, "B," "C" and "S." They have nothing to do with college football, rather are the first initials of himself and his two siblings. At the base of the tree in large, root-like writing is the word "Mom."
"She's done a lot for me and has been a single parent and has always been there for us," Thompson said. "I just wanted to have something to show how much I appreciate that."
Thompson moved to Lawrence from Arizona four years ago. At the time, he played all the sports and loved each one equally.
"About junior high, everyone else just kept getting taller and kept growing, and I didn't," Thompson said. "When I got here, a teacher of mine suggested I go out for wrestling, and I've been in love with the sport ever since."
Thompson says his favorite part about the sport is the way it allows individuals to compete together for the good of the team. Every time he steps on the mat, he does so with the mentality of winning his own individual match. But he admits that knowing a victory will help the team pushes him a little harder.
So far wrestling hasn't been too kind to Thompson. Sure, he's made great friends, become a key part of a talented team and had his share of glory moments. But he's never been able to finish a season.
As a sophomore, at 112 pounds, Thompson injured his right rotator cuff in the first match of the season. A couple of weeks later the pain had become too much to bear, and he had to shut it down for the season.
Last year, as a 119-pound junior, Thompson entered the season healthy and with high hopes. A couple of weeks after winter break, those hopes were dealt a blow when the same rotator cuff, which actually never healed properly, began to give him problems. Once again, Thompson's season was cut short.
"To get injured twice like that was tough," Thompson admitted. "I still worked hard at practice and went to every meet, but I couldn't do anything on the mat."
That brings Thompson to this year. He's been here before. Healthy, excited and eager to finish something he's really just started.
"He's got that mental attitude you have to have," Firebirds coach Paul Lappin said. "He'll just keep battling until he can't anymore. This year, I see he's a little more excited, a little more driven."
A big reason for that is because Thompson knows this is his last shot at reaching the state tournament. His committment to the team only makes his drive stronger.
"Of course I want to get (to state), I'm going this year," Thompson said. "But I'm also focusing on being a leader and helping the team."
Neither aspect of Thompson's make-up surprised Lappin, who said the senior has what it takes to get to state and earn a medal while there.
"As long as he keeps improving - and stays healthy - I expect him to place at state," Lappin said.
That middle part, the healthy part, has been Thompson's biggest obstacle so far. He's hoping any more he encounters during his final go-around weigh 135 pounds.
"(The rotator cuff) hasn't given me any pain at all yet, so I hope it will just go away," Thompson said. "I think wrestling with it like this and working out with it all summer has made it stronger."
There's a room full of people in the FSHS wrestling room who hope that's true.
"You definitely find yourself pulling for him," Lappin said. "He hasn't had a chance to show what he's made of yet and we're all hoping he gets that chance this season."
Copyright 2018 The Lawrence Journal-World. All rights reserved. This material may not be published, broadcast, rewritten or redistributed. We strive to uphold our values for every story published.