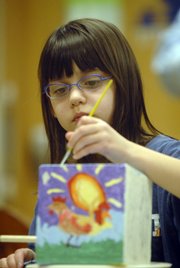 Kansas University's Fraser Hall will be sold during a silent auction this week. As of Monday afternoon, the bid was $35.
That would be a bargain for the iconic building that rests atop campus. But we are talking about a miniature version of the building - a birdhouse.
It will be sold at 5:45 p.m. Thursday along with other birdhouses as part of Hilltop Child Development Center's holiday auction.
"I wanted something KU, and I wanted something everybody will recognize," said Mike Pisani, lead teacher of the Hilltop class that made the birdhouses. "It's the first in a series. The Campanile will be next year."
In addition to Fraser, there are birdhouses featuring a Jayhawk, American flag and sheep. They were made by about 20 Hilltop students in first through fourth grades. All proceeds benefit Hilltop families who can't afford their own Christmas this year.
"Every year we try and help as many people as possible," Pisani said.
So far, five Hilltop families have signed up for help this season. Their holiday lists include items such as winter coats, clothes and even a Nintendo DS.
Pat Pisani, Hilltop executive director and Mike Pisani's mother, said the school raised about $570 last year.
She said Hilltop families usually help buy gifts, and Hilltop uses the auction proceeds to buy gift cards that supplement the requested gifts.
"Our families are wonderful about buying gifts for the families too," Pat Pisani said.
As the auction comes to a close late Thursday afternoon, Mike Pisani expects a bidding war. He said the school has had to do a countdown in the past because people wait to make their final bid.
Anyone interested in bidding on one of the birdhouses can do so by visiting the lobby of the Hilltop Child Development Center, 1605 Irving Hill Road, near Allen Fieldhouse.
Copyright 2018 The Lawrence Journal-World. All rights reserved. This material may not be published, broadcast, rewritten or redistributed. We strive to uphold our values for every story published.