Photo Gallery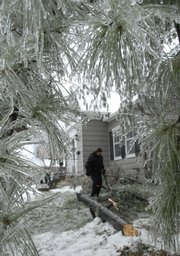 Ice Storm
Cancellation information: Schools | Community | City
Lawrence streets are wet but not icy, police said. Only five non-injury accidents have been reported since 6:30 p.m. Monday, police spokesman Kim Murphree said.
But police and Lawrence-Douglas County Fire & Medical have been busy for hours checking on reports of downed or sparking power lines and falling tree limbs, Murphree added.
As of 3:55 p.m. there were less than 500 Westar Energy customers without power. Many of them were in the area southwest of Sixth and Iowa streets. Other outages were scattered about the city.
An Ice Storm Warning is in effect for Douglas, Leavenworth and Wyandotte counties.
Temperatures for the day should stay near freezing. Freezing rain has struggled to accumulate on the roadways across the viewing area. The main concerns for the day are the possibility of freezing rain on trees and power lines. Residents without power are asked to report it to Westar at 1-800-LIGHT-KS (1-800-544-4857).
Meanwhile, tonight's Lawrence City Commission meeting has been canceled.
Items on the agenda will be shifted to future commission meetings. City Hall is still opened during regular business hours.
The city called off the meeting, which was scheduled to start at 6:35 p.m., so people would not come out in what could be unsafe weather conditions, city communication coordinator Lisa Patterson said. The city was also able to work with individuals to move agenda items to other meetings.
Tonight's agenda included plans for two new apartment complexes, one at 31 Street and Ousdahl Road and the other at 23rd and Tennessee streets. Also on the agenda was a staff report on the "timing and scope" of several sanitary sewer projects and a request to write a letter in support of a long-term lease for the Wakarusa Music Festival.
Other city meetings canceled today include the Community Commission on Homelessness, Parks and Recreation Advisory Board and the Convention and Visitors Bureau Advisory Board.
The Douglas County Courthouse is open for business, but will close at 3 p.m. today. The Treasurer's satellite offices at 27th and Iowa and in the Sixth Street Dillons store will also close at 3p.m. The Sheriff's Office located in the Judicial and Law Enforcement Center will remain open until 5 p.m.
The District Court and District Attorney's Office have been closed all day today.
Regular hours will resume for County Offices at 8 a.m. on Wednesday. Decisions on whether the District Court or District Attorney's Office will be open on Wednesday will be announced later.
Icy winter weather has caused several closings and cancellations around northeast Kansas today.
Schools
Kansas University is open.
Children's Learning Center will be closed today.
The Kansas State Board of Education has canceled their Tues. only meeting scheduled at 1:30 p.m.
Lawrence public schools are closed today.
Also canceling school today are Oskaloosa USD 341, Tonganoxie USD 464, West Franklin USD 287, Central Heights USD 288, Wellsville USD 289, Ottawa USD 290, Baldwin USD 348, Paola USD 368, Garnett USD 365, Osawatomie USD 367, Louisburg USD 416, Perry-Lecompton USD 343, Eudora public schools USD 491, Basehor-Linwood USD 458, McLouth USD 342, Corpus Christi, St. John's, Community Children's Center Head Start, Raintree Montessori, Princeton's Children Center, Veritas Christian School, Sunshine Acres Montessori, Montessori Children's House, Bishop Seabury Academy, Brookcreek Learning Center, Kids First and Discovery Day Parents Day Out, Montessori Discovery Center, Century School, Prairie Moon School, Green Pastures Preschool, Giving Tree Preschool, and Stepping Stone Child Care Center.
Healing After Suicide support group meeting is canceled for tonight. The next meeting will be at Cajun Night at Johnny's at 6 p.m. on Dec. 19.
The Waka Wolf Watch after-school care program meeting has been canceled.
Community
Massage Therapy Training Institute's classes tonight and Wednesday are canceled.
KU Swing Society is canceling the weekly Tuesday swing dance.
Lawrence Parks and Recreation Department will not be holding any activities, classes or programs this evening due to inclement weather in the area.
This includes: all recreation instruction classes, aquatic classes and youth sports basketball practice. Dates and times to make-up all activities will be determined and provided to participants. All Recreation facilities will also close early today at 5 p.m. Facilities will have delayed openings tomorrow, Dec. 12, opening at 10 a.m.
Wednesday morning aquatic classes, nature classes and recreation classes held prior to noon have also been canceled.
The KU Swing Society Swing Nite is canceled tonight.
Lawrence Gymnastics and Athletics will close at 6 p.m.
Tonight's Free State Winter Choir Concert has been rescheduled for 7:30 p.m. Dec. 17.
The Free State girls varsity and junior varsity home basketball games against Topeka High have been postponed until Jan. 5.
The Breastfeeding Your Baby class scheduled for at 6 p.m. today at Lawrence Memorial Hospital has been rescheduled to 6 p.m. Dec. 19.
The Strategic Education Center is closed today.
The December meeting of Le Leache League of Lawrence planned for today has been canceled.
The Welcome Club of Lawrence board meeting and ornament exchange scheduled for 9 a.m. Thursday has also been canceled.
Lawrence SRS offices are closed today.
The Lawrence Diploma Completion Program will be closed today.
Tonganoxie library will be closed today.
Lawrence Meals on Wheels will not deliver today.
Douglas County District Court is closed today.
Douglas County Senior Services canceled meals, services and transportation for today.
The InterFaith Meeting will postpone its December meeting to Jan. 8.
Kansas Athletics has canceled the Bill Self Roundball Dinner scheduled for 6:30 p.m. today in the Naismith Room at Allen Fieldhouse.
Ballard Community Center is closed today.
The Advent Tuesday Noonday Organ Recital at Trinity Lutheran Church (Lawrence) will be rescheduled for 12:15 p.m. Dec. 13.
Lawrence Arts Center: All children's classes canceled Tuesday; adult classes from 9 a.m. to 5 p.m. canceled. A decision will be made by 1 p.m. for adult evening classes.
The event, hosted by the Williams Educational Fund, will be rescheduled in January. Should the new date conflict with schedules, those who have paid for the event will be refunded.
Douglas County Senior Services, Inc. has canceled all programs, meals and transportation services for today.
Also all morning classes for the Lawrence Parks and Recreation Department will be canceled Tuesday.
Lawrence Gymnastics & Athletics will be closed until 4:00 p.m. today.
City
The Lawrence City Commission meeting scheduled for Tuesday, Dec. 11 at 6:35 p.m. has been canceled.
McLouth School District 342 has canceled classes for Wednesday.
If you have an event that is canceled, e-mail it to editor@ljworld.com or call 832-6303.
Copyright 2018 The Lawrence Journal-World. All rights reserved. This material may not be published, broadcast, rewritten or redistributed. We strive to uphold our values for every story published.