On the street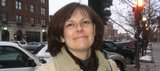 It has to get awfully bad for me to say I'm not going to come in.
Whether workers in Douglas County awaken this morning to grapple with the effects of a fierce ice storm or simply a case of mildly frustrating frigid temperatures, the folks at Cottonwood Inc. already know their workday fate.
They're off. Unless they're not.
Cottonwood took the unusual step of meeting Monday morning to cancel today's work activities. That means most of the company's 250 employees will have a paid day off, rather than be required to brave potentially risky roads on the way to the employment center at 2801 W. 31st St.
Then again, some 75 employees - workers who help Cottonwood consumers live in group or individual homes or apartments - have been lined up to work anyway, regardless of the weather.
"It's good that people are living in homes throughout the community, but it takes a lot of work to make sure we're supporting them," said Sharon Spratt, executive director of Cottonwood, which serves people with disabilities. "We want to make sure we look at the safety issues first - for staff and the people we support."
Employers in Lawrence were wrestling with such issues Monday, as forecasters were predicting a major ice storm that could snarl traffic, complicate sidewalk-clearing efforts and perhaps knock out power.
At Kansas University, 5,900 of the school's 9,600 employees were expected to seek out word from university officials this morning about whether they'd need to report for work.
There are a variety of scenarios that could be invoked, depending on the severity of any storm that might develop, said Todd Cohen, a KU spokesman.
"It could be you just go back to bed," he said. "It could be you're to come in two hours late. It could be you're an emergency employee and you have to work anyway.
"If you're facilities operations, you most likely have to go to work. If you're a shift employee, you have to check in and find out. But hopefully it misses us completely, and we'll have final exams."
While employees may have gone to sleep Monday night unaware of the storm's ultimate effects, there was one certainty for KU employees as of Monday afternoon, Cohen said. And, perhaps, it's something for others throughout the area to consider, had they not already settled on a work day approach for today.
"You can't just flip a coin in the morning to decide whether you're going to work or not," Cohen said. "You need to talk to your supervisor."
Copyright 2018 The Lawrence Journal-World. All rights reserved. This material may not be published, broadcast, rewritten or redistributed. We strive to uphold our values for every story published.