On the street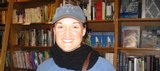 It's hard to move Kansas. It's pretty locked into a red line of thinking. But that being said, I think it's hard not to be fed with the state of things regardless of your party line.
Kansas may be close to Iowa geographically, but it is nowhere near the Hawkeye State in terms of influence in the presidential race.
Candidates have been campaigning in Iowa for more than a year to get the pole position in the Republican and Democratic nomination contest.
Kansas, meanwhile, has been at most an afterthought.
But that could change if no clear front-runner emerges after the Jan. 3 Iowa caucus and Jan. 8 New Hampshire primary.
"A lot depends on what happens in those two states," said Bob Beatty, political science professor at Washburn University.
And if the races remain tight through several other early battleground states, then Feb. 5 and Feb. 9 will become critical dates.
On Feb. 5, also called "Super Tuesday," there are primaries and caucuses, including the Kansas Democratic Party caucuses, in more than 20 states.
But even under this scenario, Kansas likely will get overlooked because delegate-rich states such as New York and California will be among the states holding primaries on Super Tuesday.
"The most we could hope for is having a couple of candidates spending a few hours here," Beatty said.
Kansas Republicans may get a bit more attention. On Feb. 9, only two Republican caucuses are scheduled - Kansas and Louisiana.
"If it doesn't shake out on Super Tuesday, from my discussions with presidential campaigns, there will be a lot of focus on Kansas," said Christian Morgan, executive director of the Kansas GOP.
Whether Kansas gets any attention, the caucuses will at least put discussion of presidential politics back in the state. The last Kansas presidential preference primary was in 1992, and the last GOP presidential caucus was in 1988, which is before some first-time voters were even born.
Through primaries and caucuses, presidential candidates are trying to win enough delegates that will lead to their selection at their party's nomination conventions this summer.
Kansans won't vote in a primary because the Legislature refused to set aside the $1.6 million the contests would have cost. So, the political parties have had to organize caucuses.
Caucuses are generally meetings for members of a particular party. During the presidential caucuses, party members will select who they want to support for president.
The Kansas GOP has selected 64 caucus locations across the state.
"The caucus is about bringing presidential politics to the local level," said state Republican Party Chairman Kris Kobach.
The Republican Party caucus in Douglas County will be at South Junior High, 2734 Louisiana, at 10 a.m. on Saturday, Feb. 9. Participants must be a registered Republican as of Jan. 25 and provide a photo ID at the caucus location.
Meanwhile, the Democrats will conduct caucuses in each of the 40 state senate districts, but the party hasn't determined locations yet. To participate in the Democratic Party caucus, a person must be a registered Democrat and eligible to vote in the Nov. 4 election. Democrats are allowing people to register or change their registration status to Democrat at the door of the caucus.
Copyright 2018 The Lawrence Journal-World. All rights reserved. This material may not be published, broadcast, rewritten or redistributed. We strive to uphold our values for every story published.