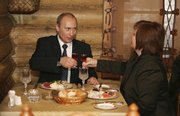 Vladimir Putin's party won a crushing victory in parliamentary elections Sunday, paving the way for the authoritarian leader to remain in control even after he steps down as president.
The vote followed a tense Kremlin campaign that relied on a combination of persuasion and intimidation to ensure victory for the United Russia party and for Putin, who has used a flood of oil revenues to move his country into a more assertive position on the global stage.
"The vote affirmed the main idea: that Vladimir Putin is the national leader, that the people support his course, and this course will continue," party leader and parliament speaker Boris Gryzlov said after exit polls were announced.
Several opposition leaders accused the Kremlin of rigging the vote, and the Bush administration called for a probe into voting irregularities. Communist Party leader Gennady Zyuganov called the election "the most irresponsible and dirty" in the post-Soviet era and party officials vowed to challenge the results.
With ballots from 85 percent of precincts counted, United Russia was leading with 63.3 percent, while the Communists trailed with 11.7 percent, the Central Election Commission said.
The Kremlin portrayed the election as a plebiscite on Putin's nearly eight years as president - with the promise that a major victory would allow him somehow to remain leader after his second term ends next year.
Putin is constitutionally prohibited from running for a third consecutive term, but he clearly wants to stay in power. A movement has sprung up in recent weeks to urge him to become a "national leader," though what duties and powers that would entail are unclear.
Venezuelan vote
In Venezuela, President Hugo Chavez suffered a stinging defeat today in a vote on constitutional changes that would have let him run for re-election indefinitely and solidify his bid to transform this major U.S. oil provider into a socialist state.
Voters defeated the sweeping measures by a vote of 51 percent to 49 percent, said Tibisay Lucena, chief of the National Electoral Council, with voter turnout just 56 percent.
She said that with 88 percent of the votes counted, the trend was irreversible.
"This was a photo finish," Chavez said immediately after the vote, adding that unlike past Venezuelan governments, his respects the people's will.
It was the first victory for an emboldened opposition against Chavez after nine years of electoral defeats.
"Don't feel sad," he urged his supporters, saying there were "microscopic differences" between the "yes" and "no" options in a referendum that Chavez's opponents feared could have meant a plunge toward dictatorship.
Chavez's supporters had faith he would use the reforms to deepen grass-roots democracy and more equitably spread Venezuela's oil wealth.
The changes would have created new forms of communal property, let Chavez handpick local leaders under a redrawn political map, permit civil liberties to be suspended under extended states of emergency and allow Chavez to seek re-election indefinitely. Now, Chavez will be barred from running again in 2012.
Copyright 2018 The Associated Press. All rights reserved. This material may not be published, broadcast, rewritten or redistributed. We strive to uphold our values for every story published.