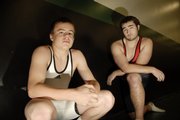 When the Lawrence High wrestling squad takes the mat for the first time today at Leavenworth, there will be a sense of something new, yet very familiar.
Patrick Naughton will take over the coaching reins for the Lions for the first time during the Leavenworth tournament, and although he is new to the position, he is familiar with some of his team's wrestlers.
"Most of the people that we have came from South Junior High," Naughton said. "I coached the seniors when I was there, and I coached the juniors two years ago before I moved over to Central."
Naughton replaces Mark Dulgarian as coach of the Lions, under whom he served as an assistant for five years.
"It'll be tough replacing a man who has nearly 30 years of wrestling experience," Naughton said. "But I'll definitely take some of the things he taught and mix them in with my own things and see how it goes."
The new head coach takes over a team that lost six state qualifiers from a year ago, but returns a solid core of wrestlers, including four who made the trip to state.
Brian Cain, Blake Greenfield, Chris Lane and Jake Pfannenstiel are back with hopes of returning to state. Lane, Pfannenstiel and Greenfield will wrestle in the middleweight divisions (119-135 pounds), while Cain returns in the 160-pound division.
The Lions also return a pair of seniors, Jordan Kircher and Melissa Naff, who already have started to fill leadership roles.
"Jordan's been a real good leader so far," Naughton said. "Melissa has also done well in that role."
Even though the Lions have been only practicing so far, the dedication from the wrestlers has pleased Naughton.
"There's a pretty good dynamic going on right now," he said. "We're still ironing out some kinks here and there, but I've really been impressed by how hard they've worked."
The Lions' Sunflower League and intra-city rival Free State also begins the season with some holes to fill.
Coach Paul Lappin's team qualified six wrestlers for state a year ago and placed fifth at regionals. This year the Firebirds return three of those state qualifiers including 112-pound regional champion Koty Russell, while senior Kenny Flanders and junior Jack Caywood round out the roster of last season's state qualifiers. Free State also will look to senior Chris Thompson to bounce back from a shoulder injury that hampered his junior campaign.
Even though the returning qualifiers were pleased with their trip to state, the Firebirds' coach doesn't expect a letdown.
"I think they're still hungry," Lappin said. "They're out there working real hard on their technique and looking to improve all of the time."
With a little less than 20 wrestlers making up the Firebird roster, Lappin will look for a number of things when the team opens its season today at Gardner-Edgerton.
"We're looking for them to improve on last year," Lappin said. "And we're also looking for some of the younger guys to step in and show us what they've got."
Copyright 2018 The Lawrence Journal-World. All rights reserved. This material may not be published, broadcast, rewritten or redistributed. We strive to uphold our values for every story published.