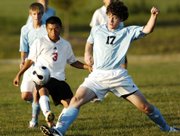 Shawnee Heights raised the ante against Lawrence High's boys soccer team Thursday night on speed, skill level and physicality.
By the time the Lions were ready, it was too late.
Dustin Deisher's chip from midfield over the entire LHS defense found Bryan Prentice, who buried a shot under oncoming Lions goalkeeper Sean Simmons in the 17th minute for the only goal of the match, and the Thunderbirds came away with a 1-0 victory at Youth Sports Inc.
The game was a stark contrast from the Lions' season-opener two nights before, when LHS dominated a weaker Junction City team.
"Probably because since we just played Junction City, we weren't prepared for this competition," junior midfielder Dar Fornelli said. "It was a better team, and we didn't come out strong at the beginning, so we got that early goal against us, and that hurt us, I think, mentally."
LHS (1-1) came out extremely flat and produced few chances offensively, due in large part to uncrisp passing and poor on-the-ball touches. Meanwhile, the Thunderbirds used their speed advantage to wreak havoc and cause several giveaways.
LHS coach Bill Kelly noticed soon after the opening kickoff his team looked lethargic.
"I think the first 10 minutes of the game or so, it wasn't a kickball game, but it was kind of disjointed," Kelly said, "Everybody was just running around like a chicken with their heads cut off.
"Our one-touch passing wasn't real crisp at the beginning, and if you don't have crisp one-touches, then you end up not knowing exactly where the ball is going to be passed to," Kelly continued. "Unfortunately, a lot of times we passed it to the wrong-color team."
At halftime, LHS assistant coach Michael Powell resorted to drawing diagrams in the dirt in front of his team's bench to rally the Lions. Powell noted the predictability of Lawrence's runs and suggested the team vary its attacks.
The Lions responded with sharper offense late in the game. Fornelli managed a shot on goal from outside the penalty area, and senior Reid Heptig got loose in the box a minute later, but his cross found nobody and went out of bounds.
In the end, LHS couldn't overcome its early one-goal deficit.
"Once we started going, we were connecting pass after pass," sweeper Rex Hargis said. "We just need to get into the rhythm quicker."
No doubt Lawrence will need a stronger start in its next game - a tilt with Free State, which has outscored its first two opponents 17-0. The two teams meet Thursday at YSI.
Copyright 2018 The Lawrence Journal-World. All rights reserved. This material may not be published, broadcast, rewritten or redistributed. We strive to uphold our values for every story published.