-->
On the street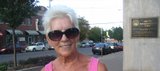 I don't think so. You shouldn't have to put money in the meters if you come downtown during the evening.
Parking income and expenses
City staff members have yet to determine how much new revenue could be produced by extending the hours that downtown parking meters must be fed.
But here's a look at how much the current system of parking meters produces:
In 2008, the city's public parking fund is expected to generate $915,000 in revenue. Not all of that, however, comes from parking meters along Massachusetts Street. The city receives $160,000 in revenue from the Riverfront parking garage and $15,000 from the New Hampshire Street garage. Also, $350,000 of the total comes from overdue parking fines. Some of those occur on Massachusetts Street, while others occur in the two-hour lots on Vermont and New Hampshire streets.
The fund pays for four parking control officers who monitor the meters and lots, three police officers, three court clerks in Municipal Court, two maintenance workers and one summer worker.
It's 8 p.m. on a pleasant Friday evening on Massachusetts Street.
The sidewalks are bustling, outdoor diners fill the air with the clanging of plates and silverware, and Mass Street is a river of slow-moving vehicles.
In short, there's activity everywhere.
Everywhere except at the parking meters, that is. They're on break, like they are every evening. City regulations require that downtown parking meters be fed only from 9:30 a.m. to 5 p.m., Monday through Saturday.
In these days of tight financial times at City Hall, some city leaders are wondering whether it is time for a change. Or more aptly, time to start collecting more change from parking meters.
"I don't know if it would be a good idea or not, but we might want to think about extending the hours," said City Commissioner Mike Amyx, who floated the idea. "What I do know is that the parking meters are already there.
"If we're looking for ways to pay for more police officers downtown, for example, this might be an option."
Every nickel counts
There is no formal City Commission proposal to extend the parking hours for downtown meters. Instead, the idea is just rolling around City Hall like a loose nickel. But as the city watches the growth of sales tax and property tax collections slow, any spare change is attracting city leaders' attention these days.
"It is absolutely worth a conversation," Mayor Sue Hack said. "Any potential revenue generator is worth a conversation right now."
Any conversation likely would start with a bunch of questions: How long should the hours be extended? Would the city do evening enforcement in the two-hour lots? Should the city start charging on Sundays, too? Should the city also increase the fine for overdue parking, which is $2?
Answers to those questions aren't yet evident. But Amyx said the idea that keeps floating through his head is pretty simple: Extend the hours long enough to capitalize off the downtown crowds. The new revenue - how much new revenue is a big question - could be used to fund new police officers to patrol the downtown. More police officers might help ease concerns that downtown is becoming less safe at night.
City Commissioner Rob Chestnut, who like Amyx grew up in Lawrence, said the idea may have some merit. That's because Massachusetts has certainly changed over the years, although the city's parking meter policy has not.
"I don't think the idea is completely out of the realm," Chestnut said. "I remember as a kid when we would go down to Mass Street after 5 p.m., you may not see more than a half-dozen cars parked. But now we have a very different venue."
Security blankets
Longtime restaurant owner Bob Schumm, owner of Buffalo Bob's Smokehouse, 719 Mass., agreed that the changing nature of downtown might be a reason to consider a change in parking meter policy.
"You don't have to know too much about downtown right now to know that the largest demand for parking is from 5 p.m. into the evening hours," Schumm said.
But Schumm said he thought the key to any change would be a promise from city commissioners that the new money be used to fund additional police officers to patrol downtown.
"I've always thought you want to use your parking system money to provide service to the patrons who are using the parking," Schumm said. "Adding more police officers would do that.
"Police officers are just a genuine security blanket for downtown visitors. People like to see them."
Jane Pennington, director for Downtown Lawrence Inc., said the issue might draw a favorable response from her group, which largely represents merchants.
"I know they are very concerned about the perception that downtown isn't a safe place," Pennington said. "If more officers would remove that perception, there may be some support for it."
The bigger question, though, isn't what businesses think of it, but rather how their customers will respond.
"I don't know. That's the question everybody is discussing," said Jerry Neverve, owner of the Red Lyon Tavern, 944 Mass. "I think it might be OK. A quarter for an hour is still a pretty good deal."
Neverve also noted that even the $2 overdue parking fine is less than most cover charges.
New hurdle
At Free State Brewery, 636 Mass., the mood on the idea is more like the Oatmeal Stout that the bar serves: dark.
Free State owner Chuck Magerl said he, too, would like to see more police officers downtown, but he doesn't want to fund them in a way that makes it less likely that someone would want to come downtown.
He said downtown competes with many shopping areas - he named The Legends in western Wyandotte County and Kansas City's Plaza district - that offer more free parking than downtown Lawrence does.
"I know we think we're a big deal, but really Lawrence is still a small town," Magerl said. "For lots of small towns, meters are sort of a throwback. Even though the fines and the rates aren't real substantial, it is still a bad message when a customer gets a ticket.
"Downtown has a lot of hurdles at this point. I'm not sure it is wise for us to put more hurdles up."
Some retailers are falling more in the middle. Rich Yeakel, co-owner of Marks Jewelers, 817 Mass., said he is fine with extending the hours to cover downtown's evening patrons. He said treating evening and daytime customers equally is a matter of fairness. But he thinks the city should wean itself from relying on parking meter revenue.
"I know I still have people tell me that they don't go downtown because of the meters," Yeakel said. "There's an awful lot of places you can go and park for free."
- Staff writer Chad Lawhorn can be reached at 832-6362.
Copyright 2018 The Lawrence Journal-World. All rights reserved. This material may not be published, broadcast, rewritten or redistributed. We strive to uphold our values for every story published.