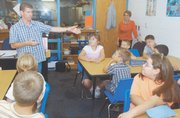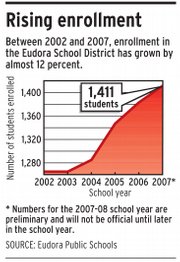 Some students at Eudora West Elementary School will spend a little more time in the library this year.
But from the Eudora school district's perspective, that might not be such a good thing.
During the summer, the district built two new reading classrooms in the school's library to accommodate a growing number of students.
"We're going to be positive and call it cozy," reading teacher Cindy O'Bryhim said.
Eudora schools have seen steady enrollment increases since the 1990s, mirroring the community's population increases. And, recently, enrollment has increased from about 1,200 in 2002 to an estimated 1,410 this year.
Voters in the district have approved several bond issues to accommodate more students. And again this November, district patrons will be asked to approve $45 million in bonds that would, among other projects, pay for a new elementary school and renovations at West Elementary.
West isn't the only Eudora school facing an ongoing space crunch.
Nottingham Elementary School added modular classrooms this summer to serve an estimated enrollment of 400. And the Eudora Middle School choir must ride a bus to Eudora High School to practice.
Superintendent Marty Kobza has worked with other administrators to grapple with space issues facing the district. Modular units were installed and temporary partitions were constructed.
"I would say in every facility we are out of space," Kobza said.
Mobile classrooms serve up to 126 students, and help relieve stress on a building that holds more than 450 people daily.
At West, Principal Jan Irby recognizes her school is beginning to face the pressures that Nottingham had been feeling for the past few years.
"It's just the natural flow of what happens to growing districts," Irby said. "It's exciting, but it's very challenging."
The middle school and high school have been working through their own growth issues.
In the high school, teachers move from classroom to classroom with carts to save space.
The high school also reallocated rooms to meet the demand. Math students learn in the school's art room, and a black box room originally meant for drama practice has also become a classroom.
"The teachers are doing an excellent job and are being very creative and very understanding with space and those concerns," Eudora High School Principal Dale Sample said.
Eudora Middle School Principal Rich Proffitt sees the loss of choir space as necessary.
"It's not a perfect condition," he said, "but we're trying to make the best we possibly can."
Even if voters approve the bond issue in November, the district will feel the strain of an increased student population next year as well, he said.
"It will be tight," Proffitt said.
$45M Bond Issue
This is what Eudora school district's bond proposal, which goes to voters in November, would finance:
Land acquisition and construction of a 1,000-student first- through fifth-grade elementary school: $26.9 million.
Restroom and other renovations to West Elementary needed to convert the building into a pre-school and kindergarten center: $378,000.
Addition of a sixth-grade pod and commons, cafeteria and kitchen expansions to Eudora Middle School: $2.6 million.
750-seat auditorium, classroom pod and science classrooms for Eudora High School: $6.4 million
New technical educational center: $3.45 million.
New district outdoor stadium: $2.9 million.
Technology upgrades: $648,000.
Bond costs, contingency and security upgrades account for the remainder.
Copyright 2018 The Lawrence Journal-World. All rights reserved. This material may not be published, broadcast, rewritten or redistributed. We strive to uphold our values for every story published.