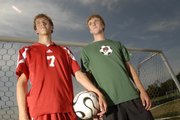 The Free State and Lawrence High boys soccer squads are ready to get offensive in their 2007 season.
Both city schools head into the season anticipating to have a strong showing from the guys up front.
"In theory, we have a chance to be pretty deep up top," Free State coach Jason Pendleton said. "Alex Clayton, a four-year starter, has shown at times that he can score goals and as a sophomore was second-team all-state. Hopefully we can get him back to that level and maybe even a little bit higher and would be very dangerous.
"We also have (senior forward) Erik Slan, who at times is the most dynamic, dangerous player on the team in the attacking area. So we have some guys that are very fast up top.
"Then in the attacking midfield with Andrew (Heck), a returning first-team all-state player who is already getting looks from college coaches and is very technical with the ball. So we're pretty dangerous when we're trying to score goals."
The forward position will also be manned by sophomore Jesse Clayton and freshman Diego Gonzalez.
Heck said he has been impressed with the dedication the entire team has had to better last year's loss to Washburn Rural in the second round of the playoffs.
"All the guys were committed to getting into shape in the offseason, and that will help when our games are at 4 o'clock in the evening," Heck said. "I think we have a chance to do really well in the Sunflower League - finish at least top-three, and then we'll see what happens after that."
Heck said he hopes to increase his offense during his senior year while fellow midfielder junior Dale Shillington "takes care of the defensive roles."
Senior Nathan Ideus, juniors Tyler Hatesohl and Parker Liebl and sophomore Alan Hornbaker also are slated as midfielders if Heck and Hatesohl ever need a quick breather.
Pendleton will have choices at goalkeeper.
"We have Ethan Morton-Gaught, who started much of the season last year as a freshman, and we also have (senior) Frank Hurtig, who has shown tremendous growth in the offseason," Pendleton said. "We have a chance to be very solid in the back and not give up any cheap, easy goals, which is something we struggled with last year."
Whoever ends up in goal will have three seniors - Greg Glatz, Jordan Williams and Auston Jacobson - along with juniors Daniel Gilroy and Brock Norwood and sophomore Daniel Chance in front of them at the defender position.
New Lawrence High coach Bill Kelly, who took over last week when newly hired Christian Sayre departed for California, is still trying to get a feel for the varsity squad after working with the C-team the last few years.
"You can never really be prepared for something like what happened, and I'm grateful for the opportunity. I just wish I had more time to prepare for it," Kelly said. "The boys have been pretty supportive of me. I know I'm doing some things a little differently than what they're used to, but they've gone with the flow a little bit, and I think they're just kind of waiting to see if it will be successful."
Kelly will have four senior defenders - defender Rex Hargis, defender Dustin Hoyt, defender Colton Johnson and defender Tony Thompson - along with juniors Bobby Davis and Jack Robertson as well as sophomore Drake DeBiasse to play in front of junior goalkeeper Sean Simmons.
"I think the way you win games is by starting on the defensive end and making sure the defensive end is really strong," Kelly said. "Then you push the attack and try to find weaknesses in the other team, and when you do, you try to take advantage. That's what we're going to try to do."
LHS will also have a strong core of seniors in the front with midfielders Wade Billings, Taylor Bussinger, Reid Heptig and Skyler Workman with Matt Shipley serving as a forward.
"Most of us played for coach Kelly on C-team for at least a year, so most of us are pretty familiar with him," Billings said. "He's been around for a while, so most of us know his coaching tactics since we've played for him before. It's been a pretty smooth transition so far."
The rest of Kelly's midfielders with be juniors Dar Fornelli and Vienny Phiomavong and sophomore Will Burg. Junior Skyler Criswell and sophomore Tor Fornelli will be playing in the forward position.
LHS begins its season on the road with a game against Manhattan today, while FSHS will play host to Spring Hill in its season opener Tuesday.
Copyright 2018 The Lawrence Journal-World. All rights reserved. This material may not be published, broadcast, rewritten or redistributed. We strive to uphold our values for every story published.