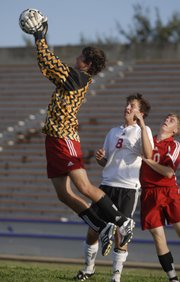 Fall sports practices officially began at Lawrence High in sweltering heat last week. But no season at LHS can begin without the Fall Sports Jamboree at Haskell Stadium - a tradition dating back to the 1950s that continued Wednesday night.
LHS athletic director Ron Commons described the initial event as an opportunity for a Friday night practice under the lights solely for the football team.
Since then, however, it has evolved for all teams.
"It's a chance to get everyone in the spotlight," Commons said.
According to head girls golf coach Mike Lewis, the Jamboree serves as a way of familiarizing everyone with game-like situations, including himself, before the games actually commence.
Lewis, in his ninth year as a member of the chain gang, was excited to hone his skills, calling it a walkthrough for everyone.
"This is kind of a kickoff for us, too," Lewis said. "It just is a good way to start the year off."
The evening began with scrimmages from both the "C" soccer team and the junior varsity and varsity teams.
And while the football team was the main event, some of the more unheralded LHS groups and teams also were honored.
Mallory West, senior captain of both the gymnastics team and spirit squad, was eager to perform for the fans at Haskell.
"It's a night to get all those jitters out," she said. "We have all the parents from all the sports here. A ton of our student body is out here. It's really cool that we can get so many people. Everyone's here to support."
The band also was able to showcase three weeks of hard work with a three-minute performance at midfield before the varsity football scrimmage.
"It feels good just to be a part of something this big," said senior Lauren Ollila, a band member and cross country runner. "When we walk out there, I get chills."
As for the football scrimmage, the Lions were given a first crack at playing on their home field. An intrasquad game on Saturday at Kansas University's Memorial Stadium was the only other game action the team had seen outside of practice.
Wednesday, Lawrence played two 30-minute halves with a running clock.
At the break, the cross country team was recognized.
Lions football coach Dirk Wedd tried something entirely different for the first 20 minutes of his scrimmage, electing to focus exclusively on special teams. The team practiced two-point conversions and kickoffs in hopes of alleviating the problems that affected the Lions in last year's opener.
Afterwards, Wedd said his team got a lot out of the night.
"I thought there was some good hitting," he said. "We found some football players tonight."
It wasn't just the Lions coaches evaluating talent, either. Members of the Olathe North coaching staff and its players were also on hand to scout LHS for opening night, which is set for Aug. 31 at the Olathe District Athletic Center.
Copyright 2018 The Lawrence Journal-World. All rights reserved. This material may not be published, broadcast, rewritten or redistributed. We strive to uphold our values for every story published.