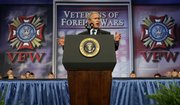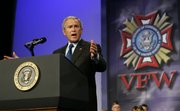 Kansas City, Mo. — President Bush resurrected Vietnam's agonizing legacy Wednesday, vowing to fight on indefinitely in Iraq to avoid the bloodbath he predicted would follow a U.S. withdrawal without victory.
"Then, as now, people argued the real problem was America's presence and that if we would just withdraw, the killing would end," Bush reminded listeners in a speech to the Veterans of Foreign Wars convention.
"As long as I am commander in chief, we will fight to win," he vowed to cheers and applause.
Bush also dialed back on earlier remarks widely perceived as signaling lukewarm support for embattled Iraqi Prime Minister Nouri al-Maliki. He called Maliki "a good guy, a good man with a difficult job, and I support him."
The VFW speech was the first of two major Bush addresses aimed at setting the tone for congressional debate after Gen. David Petraeus, the Iraq commander, gives a progress report next month.
A Republican source said White House strategists, believing anti-war Democrats will liken Iraq to the Vietnam War "quagmire," launched a pre-emptive strike "to inoculate Bush."
In his remarks, Bush drew lengthy historical parallels to earlier wars that were sure to be questioned. He said the U.S. commitment to freedom in World War II and Korea spread democracy in Asia and set an example that could be emulated in today's Mideast. He also dwelled on the aftermath of Vietnam's fall to the communists in 1975.
"The price of America's withdrawal was paid by millions of innocent citizens whose agonies would add to our vocabulary new terms like 'boat people,' 're-education camps' and 'killing fields,"' Bush said.
To bolster his argument, Bush cited a quote from Osama bin Laden: "The American people had risen against their government's war in Vietnam. And they must do the same today."
Unlike in Vietnam, however, "If we withdraw before the job is done, this enemy will follow us home," Bush said.
Bush's Vietnam-Iraq analogy had some vets in the audience shaking their heads.
"The enemy was fighting to unite the country" in Vietnam, said Hermann Carroll, 64, of Farmingdale, N.Y., who served there as a specialist with the Army's 1st Logistics Command. "In Iraq, they're tearing it apart. It's a civil war. ... This Shia-Sunni fight has been going on for centuries."
Harry Wurth, 80, of Albertson, N.Y., questioned Bush's contention that democracy could flower in the Mideast like it did in Japan after World War II.
"I don't think that analogy is quite correct," said Wurth, a Navy seaman who served on the carrier Belleau Wood in the Pacific.
Others backed the commander in chief. "Yes, I absolutely agree with Bush," said Harry Sherblom, 62, of Brewster, N.Y., a Marine corporal with the 2nd Battalion, 7th Marine Regiment who did two tours in Vietnam.
Despite their political differences, the vets interviewed after the speech stressed their support for the troops, along with hopes that victory can be salvaged.
"If we pull out (of Iraq), people over there are going to die," said Arthur Hanley, 58, who served with the Army's Americal Division in Vietnam in 1970-71.
In Washington, Democrats who have urged timetables for Iraq withdrawals ridiculed Bush's Vietnam comparison and warned of a confrontation when Congress reconvenes next month, although they have backed off on further attempts to cut war funding for fear of the political backlash.
Copyright 2018 The Lawrence Journal-World. All rights reserved. This material may not be published, broadcast, rewritten or redistributed. We strive to uphold our values for every story published.