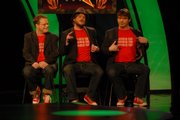 Past Event
Trivia tournament a la the "World Series of Pop Culture"
When: Saturday, August 18, 2007, 2 p.m.
Where: The Granada, 1020 Mass., Lawrence
Cost: $5 - $7
-->
-->
Redemption.
Of the 16 teams to compete last month in VH1's "World Series of Pop Culture," only one walked away with the $250,000 prize.
Fifteen other teams went home with nothing. Worse, they must now forever replay in their minds the questions and answers they screwed up.
"Once the lights are on and the camera is in front of you and there's dead silence in the room, it's amazing how much you know that goes straight out the window," says Jodi Roth of last-season's returning champs El Chupacabra, who were knocked out this time in the opening round.
"I really, really want to redeem myself after this year's show. My fingers and toes are crossed that I'll do better."
Roth will soon get her chance ... sort of.
Only this time, Lawrence fans of the program won't be watching these proceedings on the sofas in front of their home televisions. They'll get to see it live and in person. And some local trivia braniacs will actually take part in the competition.
On Saturday, the Pop Culture Scramble will debut at Lawrence's Granada, 1020 Mass. The event will reunite 28 of the 48 contestants from this season's VH1 program.
The Scramble is organized by three members of Lawrence-based Team Westerburg High - Andy Morton, J.D. Warnock and Eric Melin - who won their first-round game before being eliminated in a flurry of meltdowns involving Tom Petty, "There's Something About Mary" and Charlie Sheen's ex-wives.
"Missing 'Denise Richards' was incredibly embarrassing, and I'm reminded about it several times a week," Morton says of his celebrity lapse.
Morton, host of Sunflower Broadband Channel 6's trivia show "1 On 1," says the idea is to "pass along the experience we had."
That includes mimicking many aspects of the audition process.
He explains the rules behind the Scramble: "At 3 p.m. we'll give a qualifying test - 50 questions in 15 minutes, no multiple choice - then after that we'll find out who qualifies. We have 28 people from the show who are going to be there - that means there are 20 open slots. Nobody from the show can play with any of their past teammates. The top 20 scores on the test go into a drawing, and team captains will pick out random names from a hat."
The Atlanta-based Roth says, "I'm hoping that as unintimidating as I am that I can intimidate somebody because I've been on the show."
Pop culture hub
Morton and his cohorts first dabbled with the notion of a Pop Culture Scramble as a personal get-together with the geographically far-flung friends they made on the show.
"There was always talk of, 'When are we going to get back together and just hang out?' Because you didn't really get to hang out with everybody until the very end. It was like summer camp where, 'We're going to stay in touch forever,'" Morton says.
Morton envisioned a booze-fueled weekend in Larrytown where the former opponents would eventually hook up for a low-key trivia bout.
"Because we're in the middle of the country and a lot of the teams are from this region, I thought we'd get a few of them. It instantly turned into a bigger format because the response was so positive, so quickly."
Aided by the convenience that finalist runner-up Team Waka Waka (composed of Kansas University grads Robert Bishop, Kelly Bishop and Rachel Cahill) was based just 40 miles away in Kansas City, Lawrence seemed as good a place as any to meet. Plus there was the fact the show had been applied to by tens of thousands of trivia hopefuls, yet one-eighth of the coveted slots were filled by current or former Lawrence residents.
Yes, it's no exaggeration to claim Lawrence might be the pop culture center of the universe.
Bragging rights
Surprisingly, the VH1 network has displayed little interest in the Scramble.
Morton says, "We did an online interview thing after the series was over. One guy from VH1 knew about it, and he was going to pass on the word. But I haven't heard anything from them at all."
As such, participants shouldn't expect to get rich from this weekend's gathering.
"You get NOT $250,000 for winning," says Morton, who is trying to land some kind of trophy for the victor.
He adds, "It's really about the glory. It's the bragging rights."
Bragging seemed to factor greatly into how the 2007 "World Series of Pop Culture" played out.
During the finale, three snot-nosed NYU students named Team Twisted Mister - the youngest contestants by far, and the only ones to dress like famous rock stars - ended up taking down Waka Waka in short order.
The egocentric posturing and constant trash-talking didn't endear the Twisted Mister lads to their onstage peers or viewers of the show.
"I'm not surprised that Twisted Misters won it. They kind of thought of it as a college course and really studied up. It was a less organic approach," Roth says.
"We heard from Andrew Unterberger (the one decked out a la Def Leppard) who said he might be in Chicago this weekend. But if they show up here it will be a surprise to everyone," Morton says.
New to Kansas
Although the season's villains will likely pass on the chance to visit Kansas, most of the other contestants seemed to jump at the prospect.
"Nobody said they didn't want to do it," Morton recalls. "The most common reason given for not coming is they couldn't get off work. And some of them said, 'My wife is not going to let me leave town again for another weekend of trivia.'"
The majority of those attending will experience their first visit to Lawrence.
"Even though I live in Chicago, I have never been anywhere in Kansas before," says Kryss Peterson of Team Carlton Banks Dance Academy.
Her trio was conquered by Westerburg High in the first round, yet she bonded especially well with the Lawrence team.
"We're all so alike in that we retain ridiculous amounts of factoids," Peterson says.
Is this an opportunity for a little payback right there on her opponent's home turf?
"Maybe," she says.
"When I was on the show, we studied so much that I think then I was at my peak. So I'm a little bit worried about the Scramble, actually. I'm just trying to have fun. Hopefully, I'll know some answers, and I hope to meet some interesting people in Lawrence."
Copyright 2018 The Lawrence Journal-World. All rights reserved. This material may not be published, broadcast, rewritten or redistributed. We strive to uphold our values for every story published.