Chat about the World Series of Pop Culture with Eric Melin and J.D. Warnock
July 12, 2007
This chat has already taken place. Read the transcript below.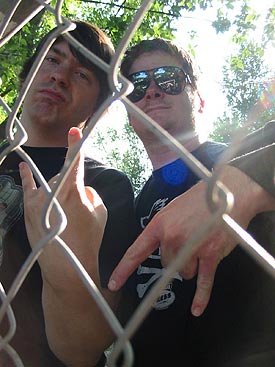 Melin and Warnock are two members of the three-man Lawrence team competing in VH1's "The 2007 World Series of Pop Culture." They'll take your questions about the game show experience - and your pop culture trivia challenges.
Moderator:
Greetings chatters. I'm Jon Niccum, Entertainment Editor of the Journal-World, and I'll be moderating this chat. Please welcome Eric Melin and J.D. Warnock of Team Westerburg High, which won its first-round battle last night on VH1's "World Series of Pop Culture."
Eric Melin and J.D. Warnock:
Hello there everyone. Getting off of work in the middle of the day is pretty sweet. We look forward to your questions.
Hey guys,
Great job in the 1st round! I was wondering if after the question is read to you if you can see it anywhere...so you can read it again....is it on a teleprompter in front of you or anything?
Eric Melin and J.D. Warnock:
No absolutely not. That is actually what makes this game surprisingly difficult. You also don't get three minutes like you do on Millionaire!!
How did you get on the show?
Moderator:
Moderator: Looks like the chat got out of order somehow. So again, how did you get on the show?
Eric Melin and J.D. Warnock:
We drove all the way to Austin, Texas, after completing a long application process and being accepted to the auditions. We didn't know how we'd do, so it was totally up in the air whether we'd go home in 15 minutes or 3 days. The test was very difficult, but somehow we all passed. Then we did a few interviews and competed in a mini-tournament version of the game.
This question is for Eric. You appeared to be very calm when answering the questions on the show last night. How did you keep so composed and focused in front of the audience and all of the cameras? Also, did you guys have any supporters in the audience to cheer you on? You guys are great-take care!
Eric Melin and J.D. Warnock:
Yeah, looking composed was really easy to fake! I was nervous as hell. It was nerve-wracking, but you just kinda sit back and take it all in. There was only one I had to think about for too long, and that was "Mars Attacks." It's really hard to come up with an answer in front of everybody in that atmosphere. We also hung out with the other team (props to CBDA!) and were really comfortable with them, so it was a lot of fun, too!
You guys rocked it on the show last night. Let's talk fashion, clearly you guys had the best get-up, very suave. Where'd you get your t-shirts made? Who came up with the design?
Eric Melin and J.D. Warnock:
Covered Ink here in town is where the shirts were made. The logo is a take on Cheap Trick's infamous logo. The suit coats and jeans were really just an attempt to give us a little style and keep it simple enough that ten years from now when we watch it again we won't be embarrassed by the get-ups.
Forgot to mention in the previous question that we did have a number of wonderful friends from home and around the country in the audience who brought a sweet sign that said "Surrender to Westerburg High" - another Cheap Trick reference. Props to Megan, Amanda and Joya!!!
How hard has it been to not talk about the results of the show? Have you ever almost slipped up?
Eric Melin and J.D. Warnock:
All the time. We are always on the verge of giving it all away, but we learned a few valuable tricks from last years champs El Chupacabra!
How do you study for the challenges? How do you keep yourselves so well informed for the questions?
Eric Melin and J.D. Warnock:
We did everything we could think off. Trival Pursuit, books and last years show, but we've had a combined 100+ years to sock away a massive battalion of useless crap.
Good showing last night! You guys are my heros!
Can you give some details on the World Series of Pop Culture that's being held at the Granada? Like when is it and what teams will be there from the VH1 show?
Also, I'm glad you showed Pat that we know our pop culture here in Lawrence unlike he thought.
Eric Melin and J.D. Warnock:
We believe it will be one long afternoon Saturday August 18th at the Granada. We don't yet know which castmembers will be there for sure, but here's a few teasers there will be members of El Chupacabra, White Russians and Almost Perfect Strangers 2.0 just to name a few. It should be really fun, and give local Lawrence trivia masters a chance to throw down with WSOPC players. We look forward to it, and the chance to bring our new friends to Lawrence.
where's andy?
Eric Melin and J.D. Warnock:
We play that game all the time, always trying to spot Andy in random photos.
Eric Melin and J.D. Warnock:
Actually he's sunbathing in L.A. with Denise Richards!
Eric -- did you ever dream, someday, you'd have a chance to say "sugart---s" on national TV? Now that you've said it on cable, do you want to up the ante and say it on broadcast TV?
Eric Melin and J.D. Warnock:
It's more than a boy from Olathe, Kansas could ever dream of, with cherries on top. As far as network, I'm working on a memoir right now that is completely false, hoping that Oprah will take me to task on her show and I can tell her the nickname I've always had for her.
Eric, have you actually seen Cool As Ice? And if so, why?
Eric Melin and J.D. Warnock:
No, but I haven't seen Disorderlies either and I hear Ralph Bellamy is amazing!
Eric, J.D., on TV, Andy looks really short. Is he that short in real life? Do you make fun of him for being short, painfully punching him in the shoulder, and calling him names like "Short Stack," or "Delicate China Doll"?
Eric Melin and J.D. Warnock:
The worst part is TV adds 5 inches. I believe the proper term is "little people."
Moderator:
Thanks Eric and J.D. for chatting today. When is your next match?
Eric Melin and J.D. Warnock:
The next match against Three Men and A Little Lazy is 8pm central on Monday night.
And just for the record, we love Andy Morton and only poke fun because he's not here to defend himself. That, and he's got a real short reach. Thanks everybody for your questions, we had a blast-- tune in tonight for fellow KU alums Wocka Wocka on the WSOPC!! Rock.