No inside game. Not much of an outside game. And a foul-prone defense.
It's no mystery why Kansas University's women's basketball team lost 20 games last season, more than any other Big 12 Conference club.
"Our record obviously wasn't very good," KU coach Bonnie Henrickson said, "but we were better than our record."
Late in the season they were. The Jayhawks won four of their last seven following a woeful 17-game stretch that produced only two victories.
Unfortunately, the sparkplug of the 11th-hour surge that enabled KU to finish with 11 wins, point guard Shaquina Mosley, was a senior. Over the last 15 games, Mosley averaged 16.7 points, 7.1 rebounds and 4.7 assists.
Mosley was turnover-prone, but she could score, and Henrickson must find another point producer to replace her.
On paper, the leading candidate is Danielle McCray, a 5-foot-11 sophomore who finished as the Jayhawks' second-leading scorer (10.5 ppg.) after a turgid start caused primarily by conditioning woes precipitated by summer ankle surgery.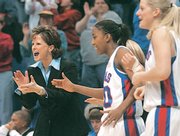 McCray, the centerpiece of Henrickson's seven-member 2006 recruiting class, did not become a starter until the last seven games. Now Henrickson hopes McCray's 25-point, 10-rebound performance against Kansas State was a harbinger.
First things first, though. Henrickson has ordered McCray to report at 170 pounds, or about 15 pounds less than she packed most of last season. McCray was too heavy for small forward or shooting guard, her natural positions, and her defense suffered.
"She's got to be able to guard somebody," Henrickson said.
Despite averaging only about 21 minutes per game, McCray fouled out a team-high six times. Still, McCray wasn't the only KU player who had difficulty guarding foes. Kansas committed more fouls than any other Big 12 team.
At the same time, the Jayhawks made fewer trips to the free-throw line than any other conference club, a deficiency attributable mainly to the lack of an inside presence.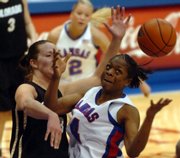 Thus it was with notable fanfare that Henrickson announced the signing of Krysten Boogaard, a 6-foot-5 forward from Regina, Saskatchewan, who was a member of Canada's Under-18 National Team last year.
"Krysten brings the size that we need in the Big 12," Henrickson said. "She is a very skilled player who runs the floor very well, not just for a player her size but for anyone."
Henrickson corralled two other freshmen - Nicollette Smith, a 6-2 forward from Tulsa, Okla., and Chakeitha Weldon, a 5-8 guard from Atlanta.
Smith, who averaged 16.8 points and 6.9 rebounds a game at Tulsa's Kelley High, looms as another inside force, yet she can fire from the outside, too.
"Nicollette is a fantastic three-point shooter," Henrickson said. "She has great size for her position and shoots the ball quickly. Teams will have to guard her from outside, even in transition."
Weldon, meanwhile, may remind KU fans a bit of Mosley.
"She brings athleticism to both backcourt positions like Shaq did," Henrickson said. "She can push the ball like we want to do. She's a good passer and she's unselfish."
Nevertheless, it's clear Boogaard, Smith and Weldon won't be able to turn KU around by themselves and that Henrickson's large group of sophomores, notably McCray, will need to ratchet up their games if the Jayhawks hope to climb to the .500 plateau and perhaps beyond.
Kelly Kohn, Sade Morris and LaChelda Jacobs - the best of the rest - blew hot and cold as force-fed frosh last season.
Kohn, a 5-9 guard, started every game and led the Jayhawks in minutes played. She displayed a mature court presence, but struggled with her shot, making a chilly 33.1 percent from the field and just 53 percent from the free-throw line.
Morris and Jacobs had accuracy problems, too, shooting 38 percent and 32 percent from the field, respectively.
Taylor McIntosh, the lone player on the roster recruited by former coach Marian Washington, returns for her fourth year as an undersized inside war-horse. A 5-11 senior from Wichita, McIntosh led the Jayhawks in rebounding with just 6.0 boards per game. And because she was usually forced to guard taller players, McIntosh also led the team in fouls.
Noteworthy, too, is the fact McIntosh shot 50.6 percent from the floor on a team that finished with a Big 12-worst shooting percentage of .390.
Three years ago, Henrickson fashioned a 12-16 record in her first season on Mount Oread. Then the Jayhawks posted a 17-13 record before last year's step backward.
In charge of a program with only one winning season in the last seven years, Henrickson faces an urgency to turn things around because the longer a program goes without winning the harder it becomes to shake the external perception and internal malaise.
"You don't want to let 'em beat themselves up about the record," Henrickson said about last year's 11-20 mark, "but also it can be a source of motivation."
Copyright 2018 The Lawrence Journal-World. All rights reserved. This material may not be published, broadcast, rewritten or redistributed. We strive to uphold our values for every story published.