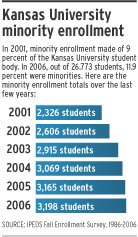 A concerted effort begun a few years ago to increase diversity among students and faculty is paying off at Kansas University.
Earlier this year, the KU School of Law was recognized by National Jurist magazine, which rated the school second in the nation in rate increase in student diversity. The school saw a 201 percent increase in minority enrollment between 2000 and 2005.
"I think KU law, like many law schools, has come to fully appreciate the importance of a diverse student body," law school Dean Gail Agrawal said.
KU statistics show steady increases in the number of minority students since 2000. The number of black students has gone from 680 enrolled in the fall of 2000 to 902 enrolled in the fall of 2006. Increases also were found in the numbers of students who were American Indian, Asian and Hispanic.
"We have been developing strategies to recruit students of color throughout the state of Kansas and in the out-of-state area," said Lisa Kress, KU director of admissions and scholarship. "We host a variety of recruitment efforts on campus and off-campus."
KU officials, however, prefer the word "diversity" when asked about minorities because they say recruitment goes beyond bringing students of color to campus. They want people from different cultural backgrounds to take an interest in KU.
To assist some of those efforts, the KU Office of Multicultural Affairs has partnered with recruiters in organizing events.
KU utilizes a multicultural road show as one aspect of its recruiting. Over a course of two weeks, recruiters visit middle schools, high schools and community organizations in Wichita, Topeka and Kansas City, Kan. An information night also takes place at those locations. The three cities are where large numbers of minorities are found in the state. They also are where many minority students who apply to KU live.
"We feel it is important to give the message early to all prospective students about what the University of Kansas can offer," Kress said. "We start with middle school students, informing them about the college opportunities and the importance of grades, studying and preparing for college."
There is a growing Hispanic population in western Kansas, and a variety of recruiting events take place there as well, Kress said. Multicultural Affairs has a program that takes a bilingual staff fluent in Spanish to western Kansas, where they speak with Hispanic families.
In fall 2006, there were 906 Hispanic students at KU, making up 3.4 percent of the student population. That is an increase of 300 Hispanic students since 2000.
Asians had the largest percentage of KU students among the minority groups, with 3.9 percent. Asians numbered 1,036 students, or 3.9 percent. In fall 2000 there were 786 Asian students, or 3 percent of the student population. American Indians made up 1.3 percent of the students (354) in 2006, up from 2000's count of 225 students at 0.9 percent.
It was mostly under the leadership of former dean Steve McAllister that the law school made major strides in recruiting minorities, said Agrawal, who has been the dean for a year.
"We try to reach out in a variety of ways to convey the message to students of color who might be considering law school that they can succeed in careers of the law and there's a place for them in law," Agrawal said.
The increase pertaining to minority law school students shows a huge increase, but Agrawal hopes to get the actual numbers higher, she said. In 2000, minorities made up 18 of 150 students in the law school. The number of total enrollees and minority students has fluctuated since, with 41 minority students out of 201 in 2002 and 35 out of 157 in 2005.
Law school recruits come from among college undergraduates, and KU starts with programs on its own campus. A minority law lunch takes place in November. An alumnus speaks, and the application process is described. But high schools aren't ignored. A Thurgood Marshall day is held for local high school students.
KU also has improved its recruiting of minority faculty members. The number of minority male faculty members has increased 20.9 percent from 2001 to 2006. The number of minority female faculty members has increased 44.7 percent over the same time period.
Copyright 2018 The Lawrence Journal-World. All rights reserved. This material may not be published, broadcast, rewritten or redistributed. We strive to uphold our values for every story published.