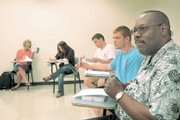 John Edgar Tidwell saw the culmination of decades of work this year when three separate volumes of his compiled writings by noted black authors were published.
"It is a bit unusual," the KU English professor allowed about the timing of the books involving Langston Hughes, Frank Marshall Davis and Howard University researcher Sterling A. Brown.
Tidwell, who is considered a noted authority on Davis and Brown, is quick to point out each of the books has progressed naturally since he took a break from teaching in the 2005-06 term.
"All these things kind of came together when I was on a sabbatical," Tidwell recalled. "I was working on all of them during that sabbatical. My interest in all of them was always high. The only problem I had was trying to make sure what I was doing with one project didn't deter me from another."
The fact that all three ended up being published in a five-month span by three different publishers is mostly coincidence, said Tidwell, who has two more books on Brown in the works.
"What makes it possible is that I had time off to work on them," Tidwell said. "A lot of work that needed to be done was completed during that year."
"Writings of Frank Marshall Davis: A Voice of the Black Press," Tidwell's compilation of newspaper articles and columns by the Arkansas City native, was published by the University Press of Mississippi in late December. It was Tidwell's third book involving the journalist.
That same month, "Sterling A. Brown's A Negro Looks at the South" appeared from Oxford University Press. Tidwell and co-editor Mark Sanders, a professor of African-American studies at Emory University, worked nearly a decade to complete work on the volume they consider to be Brown's "crowning achievement" to black studies.
In April, the University of Missouri Press released "Montage of a Dream: The Art and Life of Langston Hughes." Tidwell co-edited that volume about the Harlem Renaissance writer with Cheryl Ragar, who teaches at Drury University in Springfield, Mo. Tidwell also authored an essay included in the volume "The Sounds of Silence: Langston Hughes as a 'Down Low' Brother?," which revisits the issue of Hughes' sexuality and the influence on his writing.
"The most important thing for me is the availability of this material," Tidwell said. "I've sort of defined myself as someone interested in recovery projects."
By compiling these projects, Tidwell said he feels he is helping introduce future generations to "contributions they wouldn't know about without these materials in front of them.
"Graduate students won't have to search through the libraries, through newspapers and periodicals looking for works by these African-Americans," he said. "By making it available, I am hoping to make it possible for the next generation of scholars to find the significance and importance of these writers for themselves."
"These books will stand as invaluable contributions to the body of work on some of America's most important writers and cultural figures," KU Chancellor Robert Hemenway said of the work. "I commend John Edgar Tidwell on his accomplishment and thank him for all he has done for KU and his students."
Tidwell, a native of Independence, Kan., who did his undergraduate work at Washburn University, said he was especially gratified to make the work of the two fellow Kansans more accessible.
Frank Marshall Davis
"Davis went to Kansas State," Tidwell said, noting Davis left school a semester before graduating to become a newspaper reporter. Davis went on to help establish the Atlanta World as the city's first black daily newspaper and the nation's first successful one. Davis later wrote for the Associated Negro Press wire service, the Chicago Star and the Honolulu Record.
"What I really appreciated about Davis is that even given the interracial strife at that time, he wasn't afraid," Tidwell said. "He was a very courageous editor. If there was a very controversial issue, he'd write it as an editorial and put it on the front page with his name on it."
Tidwell included in his latest Davis volume, "Passing Parade," a continuing column Davis wrote at the height of World War II that "really questioned what would happen post-war with Great Britain, with China, post-colonial India" and who would benefit from a protracted war.
"What he had to say back in 1941 or 1942 is still relevant today," Tidwell said. "The questions he raised at the time were just phenomenal."
Aside from numerous articles and essays on Davis, Tidwell previously edited Davis' memoirs, "Livin' the Blues," in 1992, and compiled a collection of Davis' poetry, "Black Moods: Collected Poems," in 2002.
"I've done more work on Davis than anyone in the country," Tidwell explained.
Langston Hughes
"Montage of a Dream: the Art and Life of Langston Hughes" grew out of a column Tidwell wrote for a literary magazine. Long after the article was written, it still hadn't appeared. When Tidwell inquired about it, he learned the publication was going out of business. He then approached an editor about working on a book that would include such essays.
"It is the first major reconsideration of Langston since 1972," Tidwell said of his work with Ragar. "One of the things we tend to do when we attempt to look at the familiar things is to see things in a simplified way. One of the things we present is Langston Hughes was a very complicated man. He seems to be so transparent, so accessible yet we make some assertions about Langston that are really path-blazing. We interrogate things by bringing out a lot of subtleties about him. We've pushed the research ahead for a few years ahead.''
In his own article in the volume, "The Sounds of Silence: Langston Hughes as a 'Down Low' Brother?," Tidwell discusses Hughes' sexual orientation and its effect - or lack of effect - on his writings.
"I'm urging scholarly caution," Tidwell said. "Many people are claiming Langston for their own ideological or political needs. Langston put up walls. Sure he loved to chat and smoke and drink, but there came a point in which he would not allow you into his soul and heart."
So the question of Hughes' sexual orientation may distract readers from his work, Tidwell said.
"Why do we need this information?" Tidwell asked. "When people try to impose their own beliefs to his work, it's not really about the work any more."
Sterling A. Brown
Probably Tidwell's most significant accomplishment of the three books is the work he and Sanders did to complete Sterling A. Brown's collection of narratives in "A Negro Looks at the South."
The Harvard and Oxford-educated Brown spent decades interviewing blacks in the South for what he dreamed would be a comprehensive view of the lives of "ordinary folk." Brown produced volumes of poetry, edited books and presented numerous papers on the subject, but when the Howard University professor died in 1989, his ultimate task remained unfinished. Tidwell and Sanders' book completes that work.
"It's been 10 years in the making," Tidwell said.
Together, he and Sanders sifted through Brown's work, researched and authenticated his efforts and maneuvered through political and legal roadblocks to bring the book to print.
"Editing has been like a marriage," Tidwell said. "If you find the right person, you find someone who compliments your efforts."
Tidwell still is at work on Brown's biography, "Oh, Didn't He Ramble: A Life of Sterling A. Brown," and is co-editing a collection of Brown's essays, "After Winter: Essays on the Art and Life of Sterling A. Brown," with University of Massachusetts professor Steven Tracy.
"When I finish the biography and the essays, then I truly will have completed this project," Tidwell chuckled.
Copyright 2018 The Lawrence Journal-World. All rights reserved. This material may not be published, broadcast, rewritten or redistributed. We strive to uphold our values for every story published.