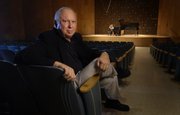 A big celebration is in the works to mark the golden anniversary of Kansas University's Murphy Hall, which houses the School of Fine Arts and University Theatre.
"It's going to be a crazy, fun year," said Erin Curtis-Dierks, communications director for the fine arts school.
The bulk of the events begins in November with a rededication of Murphy Hall, which bears the name of Franklin D. Murphy, KU's chancellor from 1951 to 1960.
Murphy helped promote arts on a local, regional and national scale. He served as chairman of the National Gallery of Art in Washington, D.C., and the Samuel H. Kress Foundation in New York, an institution for art preservation and conservation education. At KU, he played an important role in getting Allen Fieldhouse and Murphy Hall built.
Bob Foster, chairman of the Murphy 50th anniversary committee, said KU didn't have a building to house the theater, music or arts before Murphy Hall.
"We went from no building to a really good building," Foster said. "This was a huge, huge breakthrough for the arts at the University of Kansas. It made a huge public statement that it's a new day at KU and the arts are part of it."
Foster said there were two other people who were important to Murphy Hall's success: Thomas Gorton, who was dean of the Fine Arts School, and Glee Smith, a Lawrence legislator.
Gorton, who hired Foster as director of bands in 1971, oversaw and approved the plans for the building. Smith, currently a Lawrence attorney, helped produce the bill in the Kansas Legislature that provided funding.
Smith was at the dedication ceremony Nov. 10, 1957, and plans to be at the rededication ceremony Nov. 10, 2007.
"I think that is very, very neat," Foster said.
Foster said the celebration will bring back some memories of the time such as "The Music Man" and "West Side Story," which both premiered on Broadway in 1957.
"Those are two really big shows, and they are both viable today," he said.
While there will be performances of "The Music Man" in November, a national symposium will focus on Broadway musicals. The symposium will be hosted by Paul Laird, KU professor of musicology, who Foster described as the world's leading authority on Leonard Bernstein who composed "West Side Story."
Curtis-Dierks said she is looking forward to Laird's symposium Nov. 9-10.
"He is amazing to listen to," she said. "People come from very far away to listen to him talk about things at symposiums. He is just excellent."
Foster said the anniversary celebration will include recitals, concerts and lectures throughout, but the bulk of the activities will be in November and April.
"The start of this, the kickoff, and then the final end of it are like bookends. We have this big week to get it all started, and then there is a big flurry of activities that bring it to a close."
In April, the Department of Music and Dance will present a "Festival of Arts," which will include dances to commemorate the Elizabeth Sherbon Dance Centennial, concerts, performances of "Picnic," and alumni events including the first choir reunion in KU's history.
"This is going to be a great flurry of excitement," Foster said.
He said they are contacting a number of KU alumni who have went on to be famous on Broadway and in Hollywood.
Gary Foster, a woodwind and studio musician in Los Angeles, will be featured in a jazz concert.
"He is one of the greatest woodwind professionals in the world," Foster said. "You've heard him play. Every time you turn on the television, you hear him play. You just don't know it is him."
Foster said they are also hoping to draw other famous alumni such as John Williams, who composed "Star Wars" and "Superman," Don Johnson, Kirstie Alley and Mandy Patinkin.
"We hope to bring back our stars and our greatest alums," he said.
Marking a milestone
Kansas University is celebrating the 50th anniversary of Murphy Hall. Here are some of the events that are planned:¢ Rededication ceremony, 5 p.m., Nov. 10, courtyard of Murphy Hall.¢ "The Music Man," Nov. 9-11 and Nov. 15-17 in the Crafton-Preyer Theatre.¢ A national symposium covering Broadway musicals entitled "Musical Theater in 1957," hosted by Paul Laird, KU professor of musicology, Nov. 9-10.¢ Performances of "Picnic," the opera, a new adaptation based on the Pulitzer-Prize winning play by KU alumnus William Inge, April 3, 5, 8, 10 and 12 at the Robert Baustian Theatre.¢ There will be various concerts at the Lied Center including a choral concert, April 19; jazz concert, April 22; symphony orchestra concert, April 26; wind ensemble concert, April 27.For more information about the celebration, visit the Web site, www.arts.ku.edu/murphy.
Other eventsKansas University alumna and emerita professor of dance Elizabeth Sherbon (1908-2000), a former member of the Martha Graham Dance Company and Graham's assistant, will be honored in conjunction with Murphy Hall's 50th anniversary celebration. Sherbon collaborated with her colleagues in music and theater in Murphy Hall throughout her tenure at KU, and subsequent members of the dance faculty have continued the tradition. After the dance program moved to the School of Fine Arts in 1985, all dance concerts were performed in Crafton-Preyer Theatre until the opening of the Lied Center in 1993.Celebration highlights include: ¢ University Dance Company concerts at the Lied Center featuring a solo tap dance performance by dance luminary Bill Evans, jazz dance choreographed by Evans for members of the dance company, and restaging of Karole Armitage's 2001 work for the dance company, "Power Surge." Those events will be April 17-18 at the Lied Center.¢ An Art of Dance exhibit in the Teaching Gallery at the Spencer Museum of Art highlighting the Martha Graham Dance Company and other images of dance and dancers.
Copyright 2018 The Lawrence Journal-World. All rights reserved. This material may not be published, broadcast, rewritten or redistributed. We strive to uphold our values for every story published.